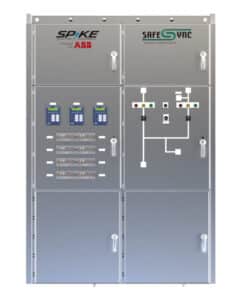 Power distribution and management have always been the underpinning factors determining the efficiency, safety, and adaptability of numerous industries across the globe. As we peer into the not-so-distant future, it is evident that Medium Voltage Transfer Switches (MVTS) are at the cusp of reshaping the paradigm of how energy is transferred, maintained, and safeguarded. Right at the forefront of this transformation is Spike Electric Controls, a leader in MVTS innovation, based out of Houston, Texas.
Spike Electric Controls: The Beacon of Electrical Innovation
The Houston Advantage:
Houston, known globally as the energy capital, houses the headquarters of Spike Electric Controls. This strategic location offers the company a ringside view of the dynamic and ever-evolving demands of power-intensive sectors, enabling them to craft solutions that are ahead of the curve.
Proudly Made in the USA:
Spike Electric Controls champions domestic manufacturing. This commitment ensures that every MVTS that comes out of their production lines stands for precision, robustness, and high-quality craftsmanship. Furthermore, a US-based manufacturing unit means swift and efficient customer service, nurturing a trust-driven relationship between the company and its clientele.
The Gold Standard: UL 1008A Listing
In the vast ocean of MVTS solutions, what sets Spike Electric Controls apart is their stringent adherence to the UL 1008A standard.
Why UL 1008A Matters:
This benchmark serves as a testament to the MVTS's consistency in performance and unparalleled safety standards. It's a mark that reassures users of the switch's reliability and its ability to withstand challenging scenarios.
The Promise of IEEE C37.20.2 Metal Clad Switchgear Standard
One of the significant challenges in power management is versatility, and Spike Electric Controls addresses this through their range, which spans from 4.76 kV to 48.3 kV.
Current Capacity for Varied Needs:
The MVTS lineup from Spike Electric Controls impressively caters to diverse industrial requirements, offering main bus continuous current ratings from a modest 1200 A to a massive 4000 A.
Spike Electric Controls: A Beacon of Trust as an ABB Value Add Partner in the USA
In the ever-evolving electrical landscape, trust and quality play pivotal roles in choosing the right partners. Companies are constantly seeking the assurance of both expert craftsmanship and robust technical knowledge. In such a dynamic setting, Spike Electric Controls emerges as a unique entity in the USA, especially when it comes to Medium Voltage Transfer Switch Systems. Let's explore why this unique collaboration between Spike Electric Controls and ABB stands out:
The ABB Value Add Partnership: A Stamp of Excellence
A Deep Dive into ABB VAP: ABB's Value Add Partner (VAP) program enlists elite companies that embody excellence in selling, installing, and servicing ABB's products. This isn't just a partnership; it's a testament to a company's capability and trustworthiness.
Why Spike Electric Controls is Special: While many companies might be a part of ABB's vast global network, Spike Electric Controls is the only entity specializing in Medium Voltage Transfer Switch Systems within the USA. This exclusivity not only signifies Spike's expertise but showcases its dedication to serving the specific needs of the American market.
Bringing ABB's Renowned Certifications to the Forefront
The Confidence Booster: Some may hesitate when considering products from smaller, privately-owned businesses. But with Spike's ABB VAP status, those apprehensions dissipate. Working under the esteemed ABB banner ensures that all of ABB's certifications seamlessly extend to Spike.
OEM Switchgear Specialization: The OEM Switchgear type VAP is an epitome of excellence. As a partner dealing in ABB's OEM switchgear – used in critical infrastructure like power plants and data centers – Spike has not only met but exceeded industry benchmarks.
Benefits of Spike Electric Controls and ABB VAP Status
Holistic Product Guidance: With profound insights into ABB's vast portfolio, Spike assists clients in tailoring solutions best-suited to their needs.
End-to-End Support: From the sales stage to the meticulous installation, commissioning, and even post-sales maintenance, Spike's technical team ensures an unmatched service experience.
Financial Acumen: Navigating financial intricacies can be daunting. Spike simplifies this, offering financial guidance for ABB products, making the procurement process fluid.
Empowering Clients: Through extensive training sessions, Spike empowers its clients, fostering a deeper understanding of the products they invest in.
Enhanced Project Success: By marrying Spike's expertise with ABB's global standards, the risks of project anomalies reduce significantly, ensuring impeccable quality and safety.
Trust, Excellence, and Unparalleled Expertise
The synergy between Spike Electric Controls and ABB isn't just a partnership; it is a fusion of two titans. While Spike's local insights, agility, and personalized touch cater to the unique needs of the American market, ABB's global standards instill a deep-rooted trust. For entities seeking top-tier Medium Voltage Transfer Switch Systems in the USA, this collaboration isn't just an option; it's the gold standard.
The ABB AMVAC Partnership: A Confluence of Excellence
Spike Electric Controls, in its pursuit of perfection, has chosen to integrate the renowned ABB AMVAC Vacuum Circuit Breakers into their MVTS.
Certifications and Standards of the ABB AMVAC Circuit Breaker: Ensuring Safety and Excellence in Spike Electric Controls' MVATS
At the heart of any reliable electrical system lies its components, tested and verified to meet various global standards. The ABB AMVAC circuit breaker, which powers the Medium Voltage Automatic Transfer Switches (MVATS) of Spike Electric Controls, proudly holds several distinguished certifications, guaranteeing its excellence in performance, safety, and environmental consciousness. Let's delve deeper into what each of these certifications means and how they reinforce the breaker's superiority:
1. UL 1008: The Standard for Medium Voltage Circuit Breakers
Developed by Underwriters Laboratories, this certification ensures the breaker has undergone rigorous testing and meets established safety benchmarks.
By adhering to this standard, the ABB AMVAC breaker assures consistent performance and long-term reliability.
2. IEC 60947-2: The International Standard
Set by the International Electrotechnical Commission, this standard lays down the requirements for circuit breakers in global applications.

Complying with this ensures compatibility and performance consistency across different global regions.
3. CSA C22.2 No. 224: The Canadian Standard
An assurance for our neighbors to the north, this certification demonstrates the breaker's suitability for Canadian conditions and requirements.

It guarantees the product's safety and effectiveness in varied Canadian environments.
4. NEMA AB3: The American Benchmark
Issued by the National Electrical Manufacturers Association, this standard focuses on the protection and performance of circuit breakers.

Ensures the breaker's capability to withstand American electrical system demands.
5. CE Mark: The European Union's Seal of Conformity
This widely recognized certification assures that the product adheres to European Union requirements.

It symbolizes the ABB AMVAC breaker's alignment with health, safety, and environmental protection standards for products sold within Europe.
6. RoHS Compliance: Environmental Conscientiousness
The Restriction of Hazardous Substances (RoHS) directive ensures that electrical and electronic equipment does not contain harmful substances exceeding agreed-upon levels.

RoHS compliance of the ABB AMVAC breaker stands testament to its commitment to the environment, by ensuring the reduction of toxic electronic waste.
Additional Recognitions:
IEEE C37.90 ensures the breaker's excellence as a vacuum circuit breaker, indicating high reliability and efficiency.

IEEE C37.20 attests to the breaker's performance standards, in line with global best practices for medium voltage circuit breakers.

ANSI/IEEE C37.010 offers an assurance that the breaker is well-suited for use even in hazardous locations, promising both safety and resilience.
A Guarantee Beyond Certifications: The 5-Year Warranty
What's equally compelling as the multitude of certifications is the robust 5-year warranty backing the ABB AMVAC circuit breaker. This not only signifies Spike Electric Controls' confidence in the product but also offers users peace of mind, knowing that they have a dependable partner ready to support in the unlikely event of any discrepancies.
Emerging Trends and MVTS
Green Energy and MVTS:
As the world pivots towards renewable energy, the MVTS of the future must effortlessly integrate with sources like solar and wind. Spike Electric Controls is leading the charge, innovating MVTS solutions that bridge conventional and renewable power seamlessly.
The Impetus for Green Integration
Harnessing Renewables: The future MVTS will seamlessly integrate with renewable energy sources, acting as bridges between conventional and green power.
Smart Grids and MVTS: By aligning with evolving smart grid technologies, future MVTS, especially those of Spike Electric's caliber, will become even more central to sustainable power management.
Integration with Smart Grids:
The rise of smart grids—intelligent, self-aware energy networks—demands MVTS that can align and evolve with them. MVTS will undoubtedly play a pivotal role in sustainable and efficient power management in the grid networks of tomorrow.
Safety and Standards: The Dual Commitment
Safety is not just a feature but a commitment. The meticulous design of Spike Electric Controls' MVTS ensures rapid detection and rectification of electrical faults, ensuring uninterrupted operations.
Commitment to IEEE and ANSI:
By adhering to standards like the IEEE C37.90 and ANSI/IEEE C37.010, these MVTS assure users of their suitability even in hazardous locations, further solidifying their position as the industry's safest bet.
Modularity and Future-readiness
Designing for Tomorrow:
Future technological shifts demand adaptability. The modular design ethos at Spike Electric Controls means their MVTS can integrate upcoming technologies, ensuring long-term relevance.
Ease of Maintenance:
Modular components, such as the integrated ABB AMVAC relay, make periodic maintenance and upgrades straightforward, eliminating traditional complexities associated with MVTS systems.
Conclusion: The Road Ahead for MVTS
The journey of power management is a continuous evolution. As industries across the world grapple with increasing demands and sustainability challenges, the role of MVTS becomes even more paramount. Spike Electric Controls, with its commitment to quality, innovation, and global standards, is not just reacting to these changes but is actively orchestrating the next chapter in MVTS innovation. Their Safe Sync MVTS range promises industries a future underpinned by technology, safety, and unparalleled efficiency. The electric future is bright, and with partners like Spike Electric Controls, it's poised to be transformative.
Written by: Cole Attaway
Cole Attaway is the founder and CEO of Spike Electric Controls. Spike's mission is to improve the accessibility and delivery of industrial electrical gear for clients nationwide. Spike solutions result in reduced unplanned downtime, less overtime, and greater operational efficiencies.
The highest quality at the quickest speed.
Spike can deliver the same name-brand electrical gear in a fraction of the time.