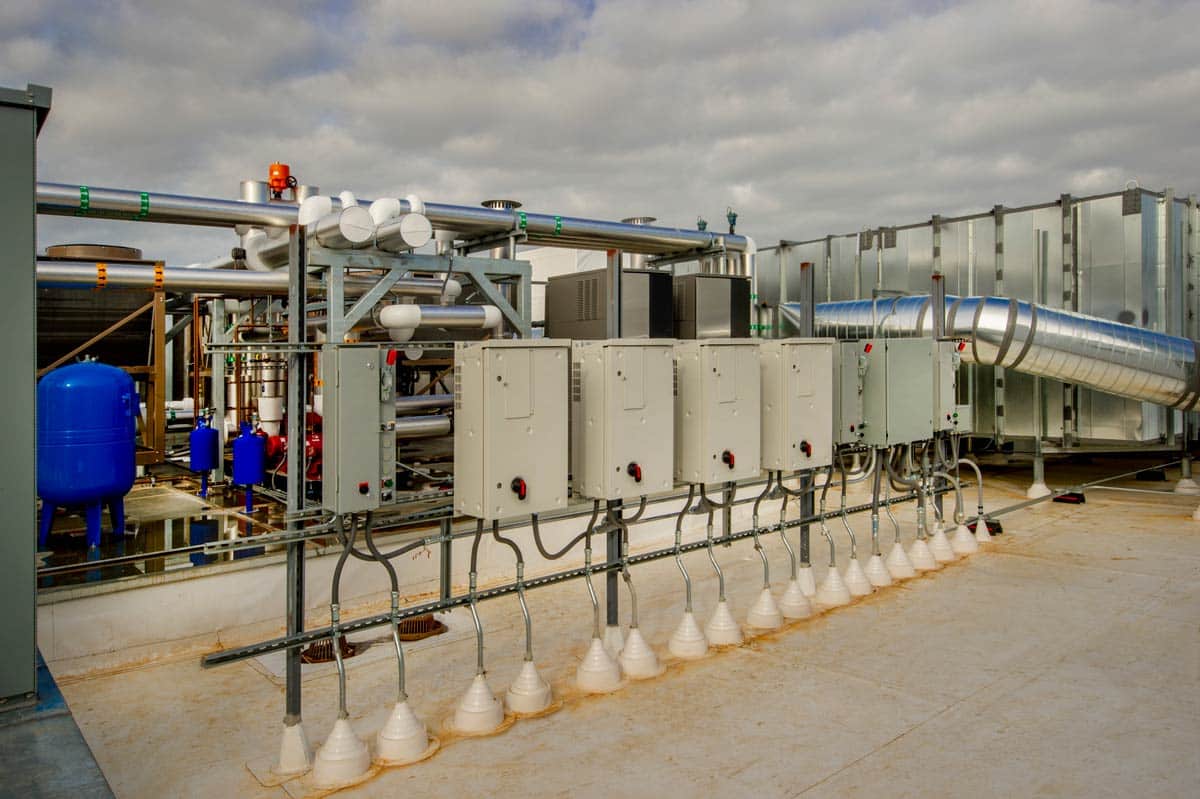 The Basic Features Of Heater Control Panels
What purpose do heater control panels serve? Heater control panels help in preventing the solidification of liquids in an industrial facility. Every heater control panel has different specifications because the temperature required to maintain the liquids in their state is different. Also, the requirements of the specific applications the control panel is serving and the devices that it is is connected to and needs to monitor and control vary. Hence, every heater control panel has different specifications and is programmed to serve specific purposes.
Heater control panels are meant to maintain the overall efficiency and performance of the industrial immersion heaters so that the liquids in the industrial facility maintain their state. Heater control panels control a lot of devices which helps them to automate, control, and protect the various processes involving heating. Some components that are contained in heater control panels include pressure sensors, temperature sensors, and level sensors. What is the purpose of pressure sensors? Pressure sensors help in maintaining the optimum pressure of the vessel that contains the liquid. What do the temperature sensors do? Temperature sensors prevent the liquid from getting overheated or frozen. The level sensors, on the other hand, make sure that the heaters remain immersed.
Heater control panels maintain the overall efficiency and performance of the industrial immersion heaters so that the liquids in the industrial facility maintain their state.
Why Should You Have A Heater Control Panel?
Fan control panels are used in a variety of applications across the industrial, commercial, and manufacturing sectors. Why? The reason is that every unit or facility requires a control panel in place that will monitor and control the rise in heat and temperature and also look after the ventilation system. An unattended fan or ventilation system can result in a dangerous spike of heat in the facility and may result in damaging the entire equipment. Commonly, fan control panels are found in warehouses for ventilation, in commercial kitchens, boiler systems, furnaces, and water heating systems. Fan control panels can be modified to suit both single-phase and three-phase fans. 
Fan control panels can also be programmed or modified to serve simple or complex processes. These control panels also have duty fan and standby fan control features. Fan control panels also possess multiple fan speed control features and also have various modes that can be operated in emergencies like fire fighting or escape operational modes. Some fan control panels operate on a simple hard-wired activation, while others also operate on a network signal activation. Fan control panels also have a pressure sensor monitoring feature which helps in monitoring and preventing increased negative pressure in the zone which is under its control.
What kind of fan control panel is the best for you is entirely dependent on the requirements of your industrial facility.
What Can You Expect?
Same Day Shipping
24/7 Real-Time Emergency Support
A Global Supplying Network
1-Year Guaranteed Warranty


Your Ideal Destination For All Heater Control Panel Needs- Spike Electric
We take pride in hosting an exclusive collection of control panels in our panel shop. All our products are certified by the widely accepted UL 508A regulation, are pre-assembled, installation-ready, and will be delivered at your doorstep. Every component that we use in our control panels is sourced from the best and the leading manufacturers in the industry.
You can experience hassle-free assistance and delivery with Spike Electric. We will deliver not only exceptional customer service but quality products and performance too. Whatever be your specification, whether you're in search of a custom control panel or a pre-assembled control panel, we will deliver. Stop by Spike Electric- the best place to have all your control panel needs to be met.
What Will A Collaboration With Spike Electric Mean To You?
1. An Experienced Team Of Technicians That Designs Tailor-Made Heater Control Panels
One of the primary reasons for our collaboration with several industrial clients is that we have a skilled team of technicians on board who will design and build custom heater control panels that will perfectly blend with each one of your specifications. If you choose to purchase a pre-assembled and installation-ready heater control panel, we will provide one with components from high-end manufacturers. We serve a variety of specifications, will put together several ideas and designs, and choose the best among them, which will prove to be the perfect fit for your requirement. We customize heater control panels that can be used for both simple and complex processes. Our extensive knowledge and experience are what makes us an ideal partner for control panels.
2. An Exclusive Range Of UL 508A Certified Industrial Products
Safety, quality, and performance play a vital role for any industrial facility of any sector. One has to make sure that all the industrial products, devices, and equipment comply with industrial regulations and certifications. At Spike Electric, safety and certifications are a priority. Hence, we possess the UL 508A certification, which ensures quality performance, delivery of heater control panels with superior functionality and efficiency. Collaborate with us, and you will not have to stress about the degree of quality while customizing or purchasing your heater control panel with us.
3. 24×7 Emergency Assistance And Technical Support
For everyone at Spike Electric, long-term collaborations are important. Hence, unlike many dealers, suppliers, and manufacturers who leave their clients after the delivery of a certain project, we at Spike Electric believe in being a long-term trusted and reliable partner. Hence we aim for 100% customer satisfaction. Our work isn't finished with developing, building, and delivering a heater control panel for your facility. Our team of professionals will be available in real-time to provide support and assistance during emergencies and technical malfunctions.
For information on our custom heater control panel services, request a quote today.


Why Choose Spike Electric?
In addition to our custom-design services, prompt delivery, easy installation, and real-time emergency support, we also have a list of other services at your disposal which make us the ideal destination for all heater control panel needs. Below are the additional services we offer.
Upgrade Or Retrofit
Does your industrial or manufacturing facility have old and aged heater control panels lying around? Well, you don't have to dispose of them yet. While we keep stock of a wide range of quality and high-standard industrial equipment, we also buy back unwanted heater control panels from various facilities and units. So, if you have some unwanted heater control panels lying around, do get in touch with our team of experts. Our technicians will have a look at your equipment, inspect the various components and will suggest a solution. This process of ours is aimed to save money for you and to save the environment too.
Guaranteed Warranty
We believe in being an ever supporting partner. Hence, our service doesn't end with design and delivery. We ensure that every heater control panel that we deliver is of exclusive and superior quality. Our firm quality standards and principles have helped us to build long-term relationships with our customers and clients. Hence, we offer a 1-year replacement warranty for all the electric products and solutions that we deliver. You can collaborate with Spike Electric with complete confidence because we deliver not just products, but reliability and performance too.
Our Range Of Products
We host a wide range of industrial equipment that will cater to all your specifications and needs. We have outlined the three categories of equipment that we host.
NEW
Our expert staff and technicians will always be able to deliver according to your individual preferences. We have a broad network of suppliers, which enable us to deliver several products and solutions. Tell us what your need and we will source it for you.
RECONDITIONED
Yes. We provide reconditioned heater control panels as well. We believe in delivering quality products and solutions that have reliability and longevity. Hence, our reconditioned heater control panels and other equipment are thoroughly inspected and will offer services that are as good as new equipment. Also, our reconditioned equipment is affordable, because while quality is high, cost needn't be.
UPGRADING
Our large on hand inventory of contactors, circuit breakers, relays, PLC, and other control products we can help you upgrade the functionality of your control panel effectively.  Replacing the old with the newsiest technology doesn't always mean you have to completely tear out your existing panel along with the wire that has already been pulled. We can retrofit and engineer a new back panel for you with all of your components pre wired. We will supply you with a full 3D CAD lay out, a BOM of suggested upgraded components, along with wiring schematics showing you exactly how the upgrade will look. We will work with your contractor in technical questions to help ensure the old is taken out and the new replaced properly.
"We provide our customers with the quickest delivery possible of our high-quality services."
"Spike solutions result in reduced unplanned downtime, less overtime, and greater operational efficiencies."
The highest quality at the quickest speed.
Spike can deliver the same name-brand electrical gear in a fraction of the time.