HVAC and Boiler Control Panels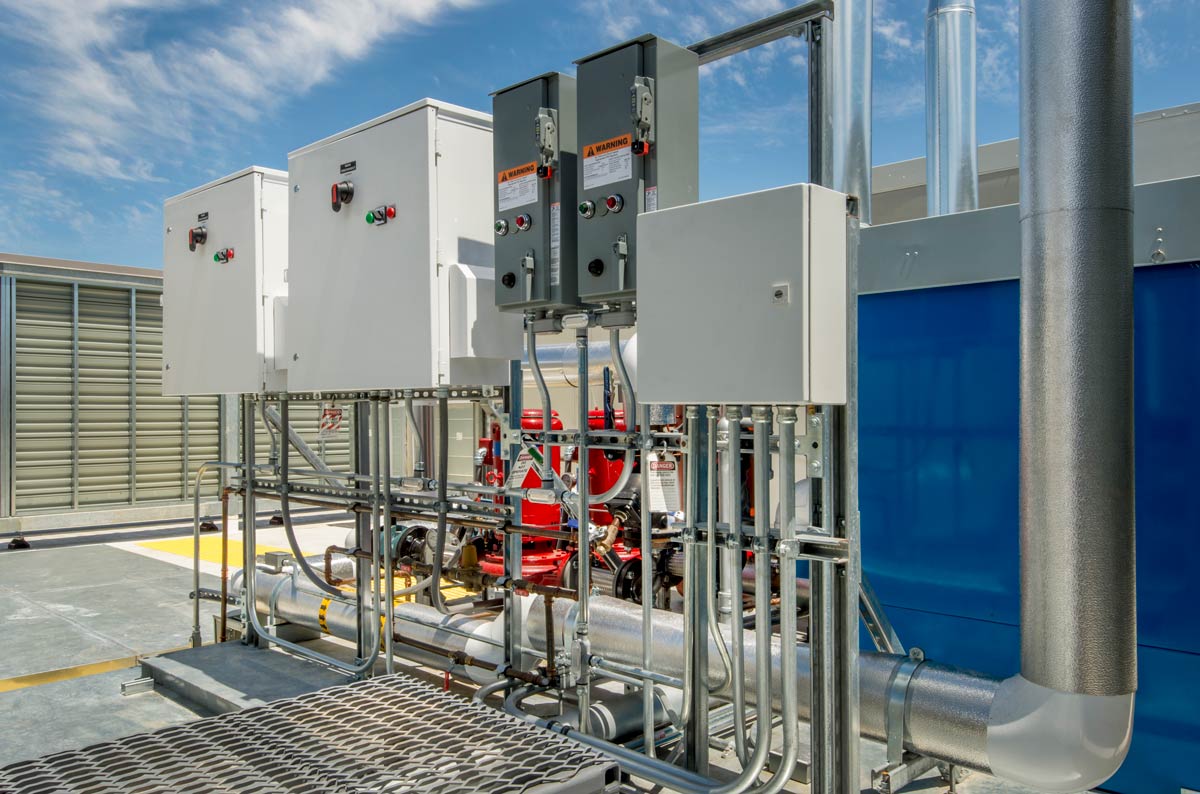 What You Need To Know About HVAC And Boiler Control Panels
What are HVAC And boiler control panels and why are they important in an industrial facility? HVAC control panels, boiler control panels, and pump control panels have an important application in the industrial sector. They are widely used in the control and monitoring of air conditioning, heating, and ventilation systems in both industrial and commercial sectors. HVAC systems and boiler control panels function either automatically or manually and control the above-mentioned systems.
HVAC control panels employ temperature sensors which help them to identify any changes in temperature in the facility according to which they either engage or disengage. These control panels manage the range of temperature and air in a given environment. HVAC control panels are used widely in residential and public sectors also.
What are boiler control panels? Boiler control panels are responsible for the heating loads in an industrial facility. They help in maintaining the optimum temperature in an industrial environment. How do they do that? Boiler control panels are programmed to consist of upper and lower limits of temperature. These control panels cycle between the two limits and hence maintain the optimum temperature that perfectly aligns with the heat load of the facility. By matching the heat load in the facility, boiler control panels improve the entire versatility and efficiency of the plant. The rotation cycles of boiler control panels between the two temperature limits can be programmed to function automatically.
While boiler control panels are responsible for the heating loads in an industrial facility, HVAC control panels employ temperature sensors that help identify any changes in temperature in the facility.
Does Your Industry Need A HVAC And Boiler Control Panel?
Yes. Almost every industrial facility needs an efficient system in place to control and monitor the air conditioning, and ventilation systems. If they remain unchecked, it may result in a dangerous spike in heat. However, the air conditioning and ventilation systems differ in every industrial facility. So, unlike someone you know of, you may need a completely different HVAC system and boiler control panels for your plant. Hence, have a clear idea about your needs and specifications. Analyze the type of systems you have in place because it will be easy to choose a boiler control panel and an HVAC system that will best suit your needs.
Possessing an HVAC system and a boiler control panel is very advantageous. Consider why. An HVAC system accounts for half of the total energy consumption of the industrial facility. Hence, if you want to significantly increase the quality of your energy conservation, an HVAC system is your best choice. Additionally, HVAC and boiler control panels improve the overall functionality and efficiency of the plant. They provide thermal comfort and also improve indoor air quality. The heating, air conditioning, and ventilation equipment in the industrial facility will now work more efficiently in terms of the power and energy they consume.
Generally, boilers are designed or programmed to follow the rotation cycle between two temperature limits to maintain the optimum temperature. However, if the limits are not accurately set or multiple boilers are involved, there may be instances where inefficient firing, staging, and short-cycling may take place. A boiler control panel prevents the occurrence of such instances by having a planned and organized approach to system management. Hence, a boiler control panel ensures the efficiency and functionality of the heating and associated systems.
Other than maintaining thermal comfort conditions, HVAC systems and boiler control panels have a lot of applications. They ensure the safety of the plant operation, significantly reduce the manpower costs, and identify the maintenance problems in the plant. Most importantly, HVAC systems and boiler control panels ensure the efficient operation of the plant to match the load, and they effectively monitor the system performance. Hence, an HVAC system and boiler control panels are worth it. Our team at Spike Electric will be happy to assist you in choosing an ideal control panel that best suits the requirements of your plant.
What Can You Expect?
Same Day Shipping
24/7 Real-Time Emergency Support
A Global Supplying Network
1-Year Guaranteed Warranty


Spike Electric- Your Experts For HVAC And Boiler Control Panels
Are you in search of an HVAC control panel or a boiler control panel? Come to Spike Electric because here is where your search will come to an end. Spike Electric has one of the best industry experts and a UL 508A certified panel shop where all your control panel needs will reach a successful climax. We provide custom control panel services too. Our team will satisfy all your specifications and requirements. Control panels will be delivered to your doorstep pre-assembled and ready for installation. So walk into Spike Electric today for a custom or an on-site built control panel of your choice.
 
What Does A Partnership With Spike Electric Mean To You?
1. Access To A Team Of Specialists With Skill And Expertise
Spike Electric has an excellent team of well-trained and skilled technicians who will design and build custom HVAC and boiler control panels that perfectly blend with your specifications. We have been supplying quality HVAC And boiler control panels for a prolonged time and have extensive knowledge and experience with industrial products. If you opt for a control panel sourced from a high-end manufacturer, if you want to customize it according to your preferences, our team will adapt accordingly. Whatever may be the specification, our team of technicians will analyze every requirement of yours and will craft a control panel that will be the perfect fit for your plant. Leave all your control panel needs and concerns with us. Our team will not disappoint you.
2. A Wide Range Of UL 508A Certified Control Panels
Spike Electric gives utmost importance to safety, durability, and reliability. Hence, all our equipment have been certified by the widely recognized UL 508A certification. This certification ensures superior and durable performance and high-quality functioning and efficiency. Another primary reason many industries have associated with us is that we provide advanced industrial equipment which provides both standard and bespoke solutions to all industrial concerns. Our panel shop has an exclusive range of products which are suitable for use in various sectors.
3. Real-Time Technical Assistance And Emergency Support
Emergencies and technical support may emerge at any given time. Our technicians at Spike Electric will be ready to help you during such instances. They are available in real-time. At Spike Electric, our goal is to achieve long-term relationships and provide 100% customer satisfaction. Hence, our work isn't over after our professionals build an HVAC or a boiler control panel for your facility and deliver it. We will continue to be your consistent reliable partner. Our team of technicians will be available at all times to provide real-time support and assistance as long as you possess the panel.
For information on our custom HVAC and boiler control panel services, request a quote today.
Why Choose Spike Electric?
 In addition to our custom-design services, prompt delivery, easy installation, and real-time emergency support, we also have a list of other services at your disposal which make us the ideal destination for all HVAC and boiler control panel needs. Below are the additional services we offer.
Upgrade Or Retrofit
Does your industrial or manufacturing facility have old and aged HVAC and boiler control panels lying around? Well, you don't have to dispose of them yet. While we keep stock of a wide range of quality and high-standard industrial equipment, we also buy back unwanted HVAC and boiler control panels from various facilities and units. So, if you have some unwanted HVAC and boiler control panels lying around, do get in touch with our team of experts. Our technicians will have a look at your equipment, inspect the various components and will suggest a solution. This process of ours is aimed to save money for you and to save the environment too.
Guaranteed Warranty
We believe in being an ever-supporting partner. Hence, our service doesn't end with design and delivery. We ensure that every HVAC and boiler control panel that we deliver is of exclusive and superior quality. Our firm quality standards and principles have helped us to build long-term relationships with our customers and clients. Hence, we offer a 1-year replacement warranty for all the electric products and solutions that we deliver. You can collaborate with Spike Electric with complete confidence because we deliver not just products, but reliability and performance too.
Our Range Of Products 
We host a wide range of industrial equipment that will cater to all your specifications and needs. We have outlined the three categories of equipment that we host.
NEW
Our expert staff and technicians will always be able to deliver according to your individual preferences. We have a broad network of suppliers, which enable us to deliver several products and solutions. Tell us what your need and we will source it for you. 
RECONDITIONED
Yes. We provide reconditioned HVAC and boiler control panels as well. We believe in delivering quality products and solutions that have reliability and longevity. Hence, our reconditioned HVAC and boiler control panels and other equipment are thoroughly inspected and will offer services that are as good as new equipment. Also, our reconditioned equipment is affordable, because while quality is high, cost needn't be.
UPGRADING
Our large on hand inventory of contactors, circuit breakers, relays, PLC, and other control products we can help you upgrade the functionality of your control panel effectively.  Replacing the old with the newsiest technology doesn't always mean you have to completely tear out your existing panel along with the wire that has already been pulled. We can retrofit and engineer a new back panel for you with all of your components pre wired. We will supply you with a full 3D CAD lay out, a BOM of suggested upgraded components, along with wiring schematics showing you exactly how the upgrade will look. We will work with your contractor in technical questions to help ensure the old is taken out and the new replaced properly.
"We provide our customers with the quickest delivery possible of our high-quality services."
"Spike solutions result in reduced unplanned downtime, less overtime, and greater operational efficiencies."
The highest quality at the quickest speed.
Spike can deliver the same name-brand electrical gear in a fraction of the time.