Eaton Crouse-Hinds SN7PB / SN7SPB Panelboards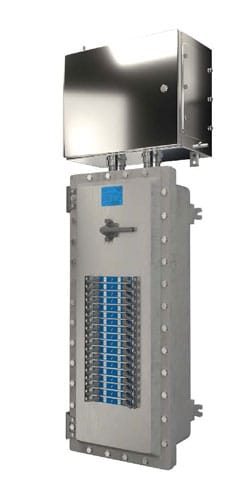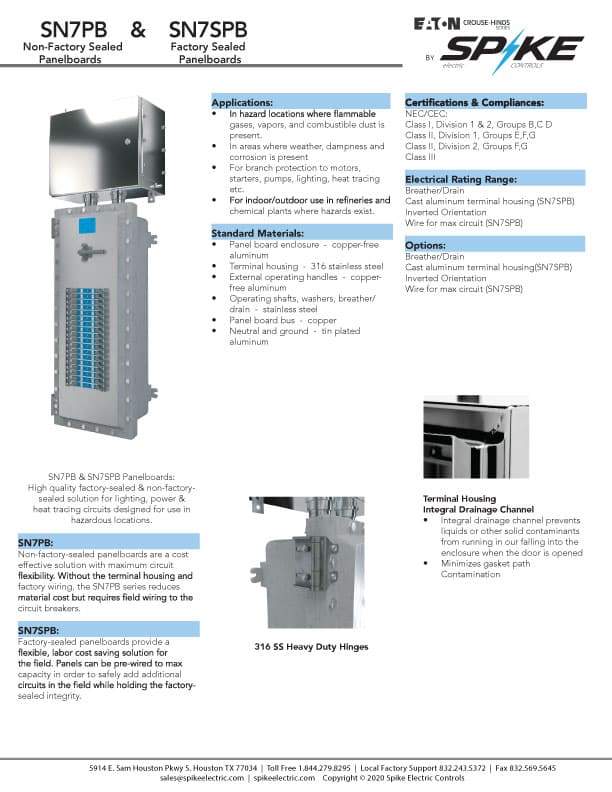 Eaton Crouse-Hinds SN7PB:
Non-factory-sealed panelboards are a cost effective solution with maximum circuit flexibility. Without the terminal housing and factory wiring, the SN7PB series reduces material cost but requires field wiring to the circuit breakers.
Eaton Crouse-Hinds SN7SPB:
Factory-sealed panelboards provide a flexible, labor cost saving solution for the field. Panels can be pre-wired to max capacity in order to safely add additional circuits in the field while holding the factory-sealed integrity.
In hazard locations where flammable gases, vapors, and combustible dust is present.
In areas where weather, dampness and corrosion is present
For branch protection to motors, starters, pumps, lighting, heat tracing etc.
For indoor/outdoor use in refineries and chemical plants where hazards exist.
• Breather/Drain
• Cast aluminum terminal housing(SN7SPB)
• Inverted Orientation
• Wire for max circuit (SN7SPB)
• NEC/CEC:
• Class I, Division 1 & 2, Groups B,C D
• Class II, Division 1, Groups E,F,G
• Class II, Division 2, Groups F,G
• Class III
Electrical Rating Range:
• Breather/Drain
• Cast aluminum terminal housing (SN7SPB)
• Inverted Orientation
• Wire for max circuit (SN7SPB)
Panel board enclosure–copper-free aluminum
Terminal housing–316 stainless steel
External operating handles–copper- free aluminum. Operating shafts, washers, breather/drain-stainless steel
Panel board bus–copper
Neutral and ground–tin plated aluminum