Master Break Load Interrupter Switch (Breaker)
Master Break LIS: Applications
Spike Electric Controls Master Break LIS provides reduced Arc Flash incident energy levels for customers on their existing MV equipment. This new solution product includes a fixed-mount VD4 Evo vacuum circuit breaker (VCB) in the fused compartment of LIS. Operating in three cycles, the fast-acting SecoVac VCB offers a new adds an Arc Flash mitigating solution designed in response to upholding Arc Flash Safety Standards.
Master Break LIS provides reduced Arc Flash incident energy levels for customers on their existing MV equipment.
The Master Break LIS reduces Arc Flash levels to help enhance safety and provides increased flexibility:
Reduced Arc Flash levels from the transformer down to the LV system.
Use as a main or feeder device which can also be \ part of a line-up that includes the fusible or unfusible Master Break LIS
Relay options that provide upstream and/or downstream communications Maintains the same footprint as the fusible Master Break LIS
The added reliability and quality of an IEC-rated, fast-acting, 3-cycle Vacuum Circuit Breaker with embedded pole technology
Protection provided via the latest relay technology including bus and transformer differential options
American National Standards Institute (ANSI) Applicable sections of: ANSI/IEEE C37.20.3, C37.20.4, C37.22 – as existing and installed.
IEC-62271-200 Standard
National Electrical Code (NEC)
Note: The Master Break LIS includes low voltage control wiring from the VD4 Evo circuit breaker and current transformers to terminal blocks located in the LV Compartment. Before energizing, contact Spike Field Services or qualified personnel for wiring and programming of the factoryinstalled SEL-751 feeder protection relay or any customer- specified or provided relays
Copper silver-plated bus
Full length ground bus
Polyester coat paint
ANSI 61 paint color (gray)
Oversized viewing window
Full height inter-phase barriers
11 gauge doors, barriers and covers
Generous cable termination area
Permanent non-corrosive nameplate
Individual doors over switch and fuses
Concealed door hinges
Switch padlock provisions
Key interlock provisions
Split rear and side covers
Tungsten-tipped arc interrupting blade
Mechanical switch and door interlocking
Louvered ventilation at top and bottom
Safety horizontal barrier
Removable filters for louvers
Long life space heaters
4″ channel base
Sloped roof
Bottom closure plates
Rodent barriers
UL / cUL listing
Copper tin-plated bus
Insulated bus and bus boots over joints
80kA momentary bus rating
Automatic transfer switch
Weather resistant
Dust resistant
NEMA 2 drip-proof enclosure
Rear doors (full height or double)
Vertical barriers
Rodent barriers
Bottom closure plates
Seismic Zone 4 bracing
Tamper resistant hardware
Auxiliary switches (2NO-2NC)
Thermostat
Space heater (standard on outdoor, optional on indoor)
Porcelain insulators
Customer metering
Surge arresters
Mimic bus
Space heater switch
Ground studs
Convenience light
Duplex receptacle
Top hat
Run back bus
VD4 Evo Breaker for Quality Protection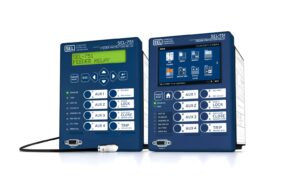 VD4 Evo circuit breaker is a three-phase AC indoor breaker with17.5kV rated voltage. It is used for control and protection of electrical equipment in industrial and mineral enterprises, power plant and substations. Durable and reliable, the VD4 Evo breaker is especially suited for conditions that require frequent operation.
The VD4 Evo series MV embedded pole vacuum circuit breaker (VCB) uses Automatic Pressure Gelatin (APG) technology to embed the vacuum interrupter and connection terminals within epoxy resin. The embedded pole technology simplifies pole assembly and provides increased assembly accuracy and quality. Embedded pole technology also improves the environmental-resistant capability of the breaker. The primary circuit is completely embedded in epoxy resin, which minimizes the risk of insulation fault caused by operating environment conditions such as dust, humidity, vermin, polluted ambient and high altitudes.
VD4 Evo Breaker Features
Breaker Mechanism
All the mechanical parts of the mechanism are integrated into opening and closing modules individually. The closing and opening modules are universal to the entire series of VB2 Plus embedded pole vacuum circuit breakers. This design offers reduced likelihood of mechanical readjustment, reducing your operation and maintenance costs.
Differential Relay Options
The Master Break LIS includes all major components including the Load Interrupter Switch, VD4 Evo vacuum circuit breaker, and the choice of a SEL-751 feeder protection relay or other specified relay.
Basic mechanical kinematic chain anomalies detection
Accessories monitoring and replacement suggestions
Loose connections detection and CB contacts monitoring
Predict CB mechanical failures
Advanced thermal checks & VI life
Advanced mechanical chain and travel curve monitor
Key Features of the Master Break LIS
Feeder Protection
Protect radial and looped distribution circuits with comprehensive protection capabilities, including time
overcurrent, directional overcurrent, autoreclosing, over-/undervoltage, frequency, cable/line thermal, and more.
LEA Sensor Inputs
Apply the SEL-751 in medium- and low-voltage applications that use low-energy current/voltage sensors. LEA sensors for measurement of primary voltages and currents are gaining popularity, owing to their excellent linearity and wide dynamic range characteristics, reduced size, and reduced weight as well as the enhanced personnel safety they provide.
The LEA current/voltage input card supports three current channels that are either Rogowski coil or low-power current inputs, three LEA voltage sensor inputs, and one 200 mA neutral input. LEA current and voltage channels accept an RJ45 connector input, and the 200 mA neutral channel accepts a terminal block input.
Expanded Arc-Flash Solutions
Improve safety with options for either four or eight arc-flash detection (AFD) inputs to improve arc-flash coverage. The SEL-751 Feeder Protection Relay offers combined light and high-speed overcurrent detection for arc-flash events. This combination provides the ideal solution for speed and security.
Sensitive Earth Fault (SEF) Protection
Improve ground protection with the 200 mA neutral input. You can protect ungrounded, solidly grounded, Petersen coil-grounded, or other impedance-grounded systems with a sensitive 67N or 50N element for directional or nondirectional ground overcurrent, respectively.
High-Impedance Fault Detection
Detect downed conductors, even on poorly conducting surfaces, with Arc Sense technology (AST). AST algorithms detect arcing produced by some high-impedance faults and will send an alarm or trip the breaker. This technology provides an added level of protection over conventional feeder protection methods.
Islanding Protection
Detect islanding conditions using the vector shift function. The SEL-751 quickly identifies waveform changes during islanding operations and provides logic to support a systematic response to changing grid conditions.
Cold-Load Pickup Element
Cold-load pickup is the phenomenon that takes place when a distribution circuit is re-energized following an extended outage of that circuit. Cold-load pickup can result in current levels that are significantly higher than normal peak load levels. This excess amount of current draw could be falsely identified as an overcurrent condition by the relay. The cold-load pickup element identifies possible coldload pickup events per the settings in a distribution line after an outage.
Incipient Cable Fault Detection
Cable insulation degrades over time. The incipient cable fault detection element can monitor for self-extinguishing, half-cycle overcurrent events that precede typical cable insulation failure. Monitoring the number of incipient faults can provide an early warning of cable insulation breakdown for preventative maintenance.
Automation and Control
Apply the SEL-751 on feeders to provide protection, automation, and control capabilities, all in one package.
seLogic torque control equations support many automated applications without the need for additional automation controllers. The configurable front-panel pushbuttons can replace conventional panel controls and simplify overall applications and wiring. The 14 digital inputs (DI) card option expands available contact inputs for enhanced automation solutions.
Thermal Protection
Protect cable and feeder insulation against thermal damage using the IEC 49 cable/line thermal element. It extends conductor life and provides backup protection for the overcurrent elements.
Event Analysis
Conduct post-event analysis more efficiently with detailed event records. You can combine oscillographic and digital information to find root cause. Adding a satellite-synchronized time source, like an SEL satellitesynchronized clock (e.g., SEL-2401 or SEL-2407®), provides convenient alignment of event information from multiple devices.
Reliable in Harsh Environments
All SEL relays are designed to operate in harsh environments where other relays may fail. The SEL-751 operates in extreme conditions, with an operating temperature of –40° to +85°C (–40° to +185°F), and is designed and tested to exceed applicable standards, including vibration, electromagnetic compatibility, and adverse environmental conditions. In addition, the SEL-751 is ATEX- and Underwriters Laboratories (UL) Class I, Division 2-certified for use in hazardous and potentially explosive environments.
Open Conductors Detection
Apply the SEL-751 to detect and isolate open conductors. The SEL-751 incorporates phase discontinuity detection and optional broken conductor detection to provide a reliable solution for open-conductor faults that convert to high-impedance faults.
Wildfire Risk Reduction
Identify downed conductors and minimize wildfire risk by detecting high-impedance faults. SEL's unique AST detects and clears faults that might not be detected by traditional overcurrent protection.
Flexible Communications
Advanced protocols support communications using legacy and modern supervisory and control systems. These protocols include:
IEC 61850 Edition 2
RSTP
EtherNet/IP
The IEEE 1588 Precision Time Protocol (PTP) (firmwarebased)
IEC 60870-5-103
DNP3
Modbus TCP/IP
Telnet
File Transfer Protocol (FTP)
Simple Network Time Protocol (SNTP)
Mirrored Bits communications
ASCII
In addition, the IEC 61850 test mode in the SEL-751 enables in-service testing, which reduces commissioning time.