Explosion Proof Panelboards
Eaton Crouse-Hinds Series by Spike Electric
SN7PB & SN7SPB are two of many explosion proof panelboards that Spike Electric manufactures.
Eaton Crouse-Hinds Explosion Proof Panelboards
Explosion proof panelboards are the perfect solution in hazardous conditions. Specifically, they shine where the following are present:
Flammable gases and/or

 vapors
Combustible dust
Explosion proof panelboards are the perfect solution in hazardous conditions where flammable gases are present.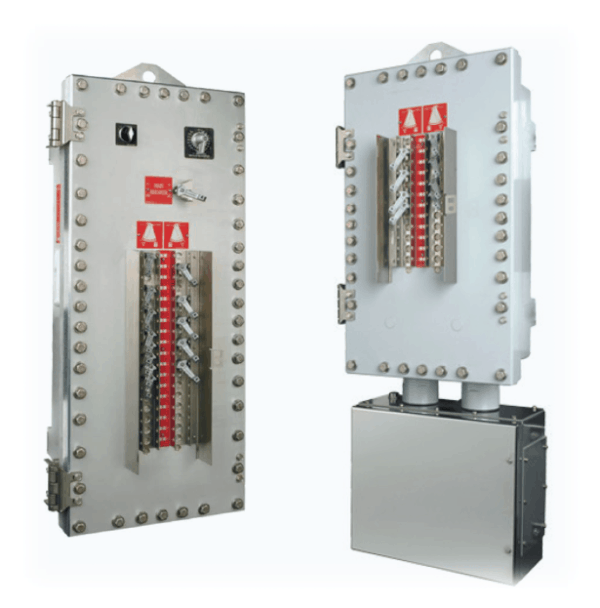 Why Choose A Spike Electric Product
Spike Electric provides the quickest delivery of the highest quality manufactured electric gear. We interact with our customers with high-quality customer service. That means you get:
Two-Week Turnarounds (or faster) on Most Orders
High Quality Manufacturing
A Manufacturing Parter for Years to Come
High Quality Customer Service
How does that translate into value for you? That's simple.
Working with Spike Electric Controls means:

Reduced Downtime
Less Overtime for Your Staff
Greater Operational Efficiencies
Explosion Proof Panelboard Solutions
"We provide our customers with the quickest delivery possible of our high-quality services."
"Spike solutions result in reduced unplanned downtime, less overtime, and greater operational efficiencies."
The highest quality at the quickest speed.
Spike can deliver the same name-brand electrical gear in a fraction of the time.
Certifications and compliances
(Not available for every model.)
NEC/CEC:

Class I,

Division 1 & 2, Groups B, C, D
Zone 1 & 2, IIB + H2

Class II

Division 1, Groups E, F, G
Division 2, Groups F, G

Class III
NEMA/EEMAC:

NEMA 3, 4, 4X
NEMA 7BCD, 9EFG, 12

CSA Enc. 3, 4, 5
UL Standard: 67, 1203
cUL (to CSA Standard C22.2 Nos. 29 & 30)
IP65 
Applications for Explosion Proof Panelboards
(Does not apply to every model.)
In areas made hazardous by the continuous or abnormal presence of flammable gases, vapors, and combustible dusts
Also in areas subject to weather, dampness, and corrosion
For branch power distribution and circuit protection to motors, valves, pumps, lighting, heat tracing, receptacles, etc.
Also for indoor and outdoor applications in petroleum refineries, chemical and petrochemical plants, and other process industry facilities where similar hazards exist
To accommodate up to 100 amp branch loads (only 3 circuits), balance is up to 50 amps
How To Review Your Existing Suppliers
How does a late shipment affect you?
First, does it result in production delays?
Second, does it result in unbudgeted overtime?
Finally, does it result in other expedite fees or expedited shipping costs?
What's the true cost of quality to you?
Does poor quality delay your production schedule?
Does it consume other resources, such as engineering, that could be working on more productive tasks?
How are future sales affected by a quality failure in the field?
Won't it cost more to outsource than to do it internally?
Do you have the proper equipment to machine the part internally?
Do you have hazardous location UL listings?
How is the quality with the internal process?
Does the quality cause more problems in subsequent operations?
If you consider lost labor time at all stages, what's the true cost of the part?
Can your existing labor be better utilized doing something else?
What other value-added services do you get?
Are critical dimensions nominal, or just in tolerance?
Do you get suggestions on cost savings?
Before the parts are made, do you get print or tolerance errors pointed out?
Do you get help during initial design stages, to reduce cost and time?