Power Distribution Center (PDC) Buildings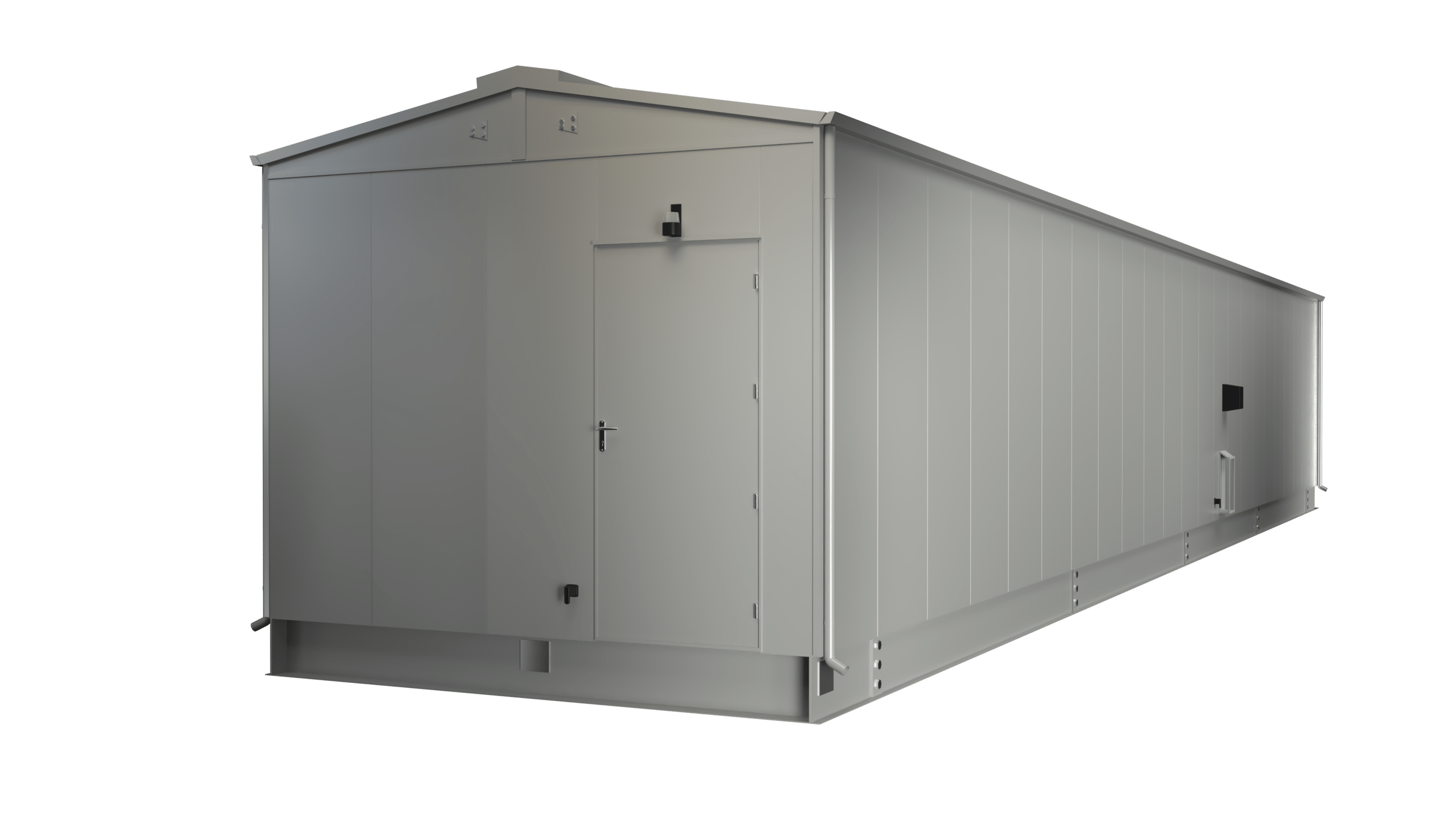 Get premium quality PDC buildings or power distributions centers with a customized design by Spike Electric! Our prefabricated PDC buildings are tailor-made to suit specific and unique project needs. Spike Electric ensures smooth and timely delivery of the PDC Buildings to the job site. Based on the customer requirements and specifications, we can arrange for the installation of the switchgear equipment either before the delivery or after.
Spike Electric has the best collection of PDC Buildings- both interlocked panel buildings and containerized buildings. The equipment is pre-tested for full functionality and flawless operational efficiency.
Our prefabricated PDC buildings are tailor-made to suit specific and unique project needs.
What Is a PDC Building?
A PDC Building is a custom-designed and engineered prefabricated enclosure that is environmentally controlled. It is built to host a wide variety of electrical equipment. PDB buildings are designed and developed to meet the specific requirements of the customer project. At Spike Electric, one can discover the best collection of flexible, dependable, and high-performing PDC buildings. 
As already mentioned, a PDC building is pre-assembled with all the essential equipment and is evaluated for complete functionality and operational efficiency. This significantly reduces the installation expenses and lead time as the buyer can prepare the project site for operations while we manufacture the PDC building. 
PDC buildings are modular enclosures and hence reduce the installation and ownership costs. This piece of equipment protects the various electrical devices from harsh environmental and weather conditions. 
PDC Design by Spike Electric
The designs are developed keeping longevity and durability in mind.
Exterior components of the PDC building are engineered with robust materials like A60 galvanneal and are given a proven and tested paint finish compliant with the industry regulations and standards.
Exterior walls and interlocked and gasketed to ensure the maximum amount of protection from external environment conditions.
The roof panel design is welded and capped. This ensures maximum safety and protection.
Unique designs are developed for the interior panels and joiners as per the client's specifications.
No need for the fixing and installation of screws and rivets. This gives the entire PDC building an aesthetically appealing design and look.
Quality PDC buildings by Spike Electric
Spike Electric's PDC buildings are proven to withstand the harshest and most challenging environmental conditions.
They can be used in a variety of industrial applications that function in demanding environments like mining facilities, corn and pulp mills, paper mills, and waste and water treatment plant.
The quality control at Spike Electric begins from the receiving of the order and progresses through the design development stage, equipment delivery, and commissioning.
Since all industrial project's requirements are different, each PDC building design is developed and customized to suit those specific needs.
Post design development and assembly, the PDC building is vigorously evaluated, following the standards of industrial regulations.
Spike Electric executes a rain test in an indoor test booth also to ensure that our clients receive nothing less than the best.
We combine both quality processing and expert workmanship, and that is what has made us a dependable partner for electrical equipment in the industrial sector.
Compliance with Industry Standards
Every PDC Building at Spike Electric follows the following industry standards:
International Building Code
Uniform Building Code
National Electric Code
Canadian Standards Association
National Fire Protection Association
American Institute of Steel Construction
Institute of Electrical and Electronics Engineers
American National Standards Institute
National Electrical Manufacturer's Association
The Spike Electric Advantage
At Spike Electric, you will always be a step ahead. Experience a wide range of benefits by making us your partner for your next PDC Building design and needs. We deliver the following unparalleled and unmatchable advantages for our clients:
Reduced Lead Time: Prefabricated PDC Buildings require fewer lead times as they are ready to use and offer 50% more efficient than conventional stuck-built construction enclosures. Since we provide manufacturing and design development, there will not be any construction delays. Managing lead times is much easier!
 100% Customized Designs: Spike Electric will develop designs that suit your specific project needs. All PDC enclosures are custom designed and engineered to suit your preferences. A variety of features can be integrated and there are endless possibilities to make the PDC building blend perfectly with unique project specifications.
Cost-effective solutions: Spike Electric's PDC Buildings will provide the most valuable solutions. Being a modular construction, a PDC building is the most cost-effective and long-term solution. The modular design of the PDC Building reduces the construction costs by a significant 20%.
Optimal requirement of space: PDC buildings are engineered to ensure the most optimal use of space. What does that mean? They require less space for operations. That makes them a smart solution for many industrial projects. They can be installed in a variety of locations and environments, and they have the best space-saving features.
Are you in search of an ideal PDC building for your industrial unit or project? Then, contact Spike Electric!
We will provide the perfect design and customize the PDC building for you. The best industry experts will be working for you! Reach out to us today!
"We provide our customers with the quickest delivery possible of our high-quality services."
"Spike solutions result in reduced unplanned downtime, less overtime, and greater operational efficiencies."
The highest quality at the quickest speed.
Spike can deliver the same name-brand electrical gear in a fraction of the time.