Temporary Power Solutions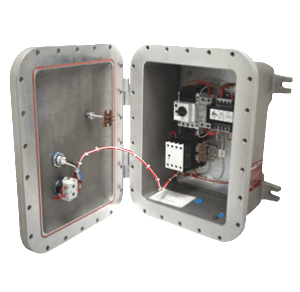 Spike Electric Controls offers a wide assortment of Crouse-Hinds explosion proof & dust tight enclosures. All panels are assembled to meet NEMA and IEC standards.
We do it all, from control panels, motor starter and circuit breaker assemblies to purge systems, PLC and operator controls. Your safety is our #1 focus. We are committed to meeting all of your technical requirements, scheduling needs and budget considerations.
• EXPLOSION PROOF DISCONNECTS
• EXPLOSION PROOF & DUST-TIGHT ENCLOSURES
• EXPLOSION PROOF AUXILIARY DEVICES
• EXPLOSION PROOF METER HOUSINGS
• EXPLOSION PROOF FITTINGS & ACCESSORIES
• PANELBOARDS
• MOTOR CONTROLS & CONTROL PANELS
• MANUEL & AUTOMATIC TRANSFER SWITCHES
SPIKE ELECTRIC CONTROLS is a UL listed panel shop.