Synergy Switchboards by Spike Electric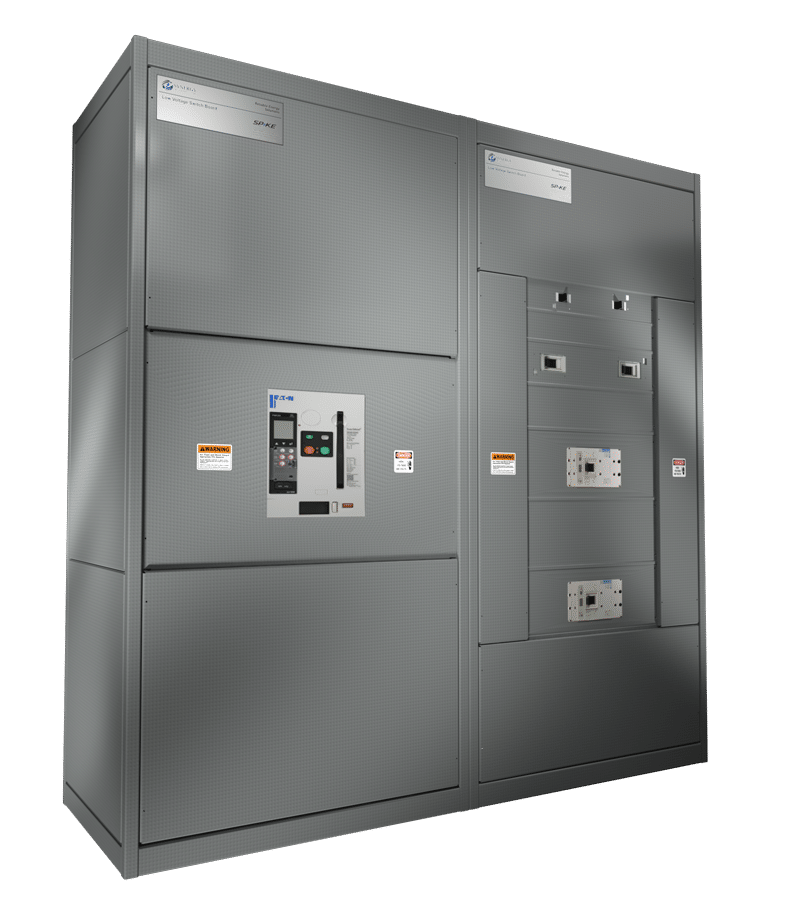 Synergy Switchboards – UL 891-Listed, High-Quality Engineering Products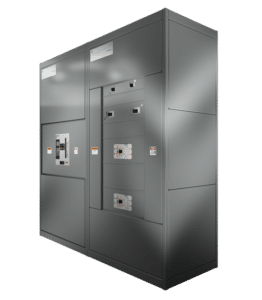 We, at Spike Electric Controls, introduce our Synergy Switchboard range, which is an engineering marvel. We aim to bring you power products that are engineered for safety, reliability, and quality. We are committed to providing our clients with innovative solutions and meeting complex technical requirements with ease.
Our Synergy Switchboard range is UL-891-listed, which is one of the most common and most widely trusted standards for switchboards. The UL standards are essentially a set of safety regulations that have been certified by OSHA (Occupational Safety and Health Administration) in the U.S. These standards have been approved by the U.S. federal government for the safety of workers.
The specifications of the UL891 quality control standard apply to the switchboards rated for 600V or less in accordance with the National Electric Code (NEC) and ANSI/NFPA 70. This standard also covers the switchboards which are used in circuits with available short circuit currents up to 2,000A or less.
Our Synergy switchboards are tested after being subject to a 2,000A fault current. This certifies that our product can survive the extreme physical stress of such an event. This gives you an assurance that our Synergy Switchboard range will hold up even in the most extreme circumstances.
The UL standards for switchboards focus on all aspects of safety w.r.t the switchboard systems. As per the requirements of the UL certification, our Synergy Switchboard range is periodically sampled and tested to ensure compliance. So, there is a constant testing and thus, our task does not end with getting certified once only.
The badge of the UL certification conveys trust between the manufacturers, governing bodies, and consumers.
Our Synergy Switchboard range is UL 891-listed, which is one of the most common and most widely trusted standards for switchboards.
Branded 
UL 891

Switchboards by Spike Electric
Synergy Switchboards – Easy Installation and Maintenance
Our Synergy switchboard range is built to last and features design innovations that facilitate easy installation and maintenance. These switchboards are easily available to meet the needs of contractors, consultants and end-users.
The Synergy switchboard range adheres to the highest standards in terms of quality. We offer custom or standard switchboards that are easy to install, we are available 24/7 to assist any installation questions. Spike Electric will provide you with a sales engineers contact information before shipping that you can call directly for any questions 24/7.
Our Synergy switchboard range designs entail the most frequently requested ratings and options, with faster delivery.
Synergy Switchboard Features for the Custom Option
Circuit breaker and fusible switch mains and feeders
NEMA Type 1, 12, 4, 4x or Type 3R available
NEC 2017 Arc Energy Reduction available or also called arc-flash mitigation system available for main breaker
6000 Amp Max on Switch Boards
65 kAIC standard bus bracing. Optional 100 or 200 kAIC
Voltages – up to 600 Vac or 250 Vdc
Sequence utility metering – hot or cold
Internally mounted surge protection devices
Customer metering
Main Tie Main
Dual Generator Input
Emergency Generator Input Parallel Switchboard
Automatic Transfer Switch Intergraded into Switchboard
Manuel Transfer Switch Intergraded into Switchboard
Distribution Transformers Intergraded into Switchboard
Mini Power Zone Intergraded into Switchboard
Long-Time Delay · Short-Time Pickup · Short-Time Delay · Instantaneous Pickup · Ground Fault Pickup. available on all circuit breakers
Custom Busway and transformer connections available
PLC or relay based main automatic transfer schemes
Microprocessor-based metering and monitoring equipment
Utility metering provisions
Synergy Switchboard Features for the Standard Option
Voltages to 600 Vac or 250 Vdc
NEMA enclosure types – indoor and outdoor
Ratings – up to 4000 A, 100 kA SCCR
Bussing options – aluminium or copper with tin plating or copper with silver plating option
Distribution configurations available – Single or Double Row I-Line
Internally mounted surge protection devices
Commercial Multi-Metering
We offer an opportunity for providing revenue metering for multiple tenants in a cost-effective manner. Our aim is to reduce footprint requirements as well as installation time for projects that require top exit of load side cables. This proves to be an ideal option for shopping centers or for shopping malls.
Features of Commercial Multi-Metering
Commercial multi-metering is a hot sequence metering.
It is available with Lever By-pass or Non-Lever-By-pass construction.
Switchboard ratings – through 4000 A, 100 kA.
Contains options to add future tenants and future sections.
Factory installed devices are wired from the meter socket to disconnect.
NEMA Type 1, 12, 4, 4x or Type 3R available.
Alignment options include front and rear.
Meter sections are available in three or six socket section configurations.
60-200 A without lever by-pass contains inbuilt meter sockets, 5 or 7 jaw, ring type, test block.
60-200 A lever by-pass contains inbuilt meter sockets, 7 jaw, ringless.
400-1200A have current transformer rated meter compartments.
Synergy low voltage switchboards offer an economical way of distributing electricity. These switchboards are customized and may be used as a service entrance equipment or as distribution centers in commercial, institutional, and industrial applications. Synergy low voltage switchboards are enclosed and free-standing structures, which contain circuit breaker for services rated up to 5000A with a maximum voltage of 600 VAC.
In addition, there is an auxiliary section that facilitates cable or bus transition. It also provides additional space for connecting the service conductors to the line side of the main.
The Synergy low voltage switchboard frame mounts various components in the switchboard, which include transfer switches, special metering systems, and throwover systems.
Features of Synergy Low Voltage Switchboards
Switchboard ampacity to 400A to 12000A 
Voltage: Up to 600Vac, or 250Vdc
Suitable for service entrance or distribution
NEMA enclosures – Type 1, 12, 4, 4x or Type 3R
Testing of short circuit rating of 3 cycles (.05 seconds); or immediate trip of tested OCPD; or braced to UL configuration standards
Accessibility: front or rear
Assembling in factory
Sequence utility metering for hot or cold
Customer metering
Availability of protective device accessories
Fully rated copper bus systems – 1000 A per sq in.
Fully rated aluminium bus systems – 750 A per sq in.
A large array of integrated components available – SPD, distribution transformers, automation, automatic transfer switches, etc.
Stainless Steel Switchboards & Stainless Steel Nema 4x Switchboards
Out Door Stainless steel switchboards are common in highly corrosive environments that a painted steel enclosure may corrode over time. The longevity of the switch board is significantly increased when utilizing a stainless-steel switch board in those types of environments.
When ordering a Nema 4x Switchboard there is allot of room for error due to some companies not understanding the heat loss calculations that need to be done on a Nema 4X Rated switch board. Nema 4x Switch Board should be rated for windblown dust and rain, splashing water, and hose directed water; undamaged by ice which forms on the enclosure.  Circuit Breakers, switches, transfer switches and other devices generate allot of heat. The heat needs to escape through a Nema 4x ventilated or AC cooled system or the enclosure needs to be sized properly in order to withstand the internal heat.
Nema 4x Switchboards can have issues like nuisance tripping of circuit breakers, over heating of components, which in turn defeats the purpose of the 4x enclosure of increasing the longevity of the internal electrical components. Let Spike Electric Design and build your custom Nema 4x switch board. Our team of electrical engineers will ensure the heat calculations are done properly and working with their counterpart mechanical engineers will design the enclosure to fit the custom application.
Synergy Speed D Switchboards 2-3 Week Standard Lead Time
Speed D switchboards are quick ship switchboards which are suitable for use as service entrance equipment on ac systems. We offer custom or standard Speed D quick ship switchboards that feature our unique I-Line plug-on connections in group-mounted construction. You just need a screwdriver to ratchet the line end of a molded-case circuit breaker onto the I-Line bus assembly. This plug-on design facilitates quick installation and mounting of circuit breakers up to 1200A.
Features of Synergy Speed D Quick Ship Switchboards
Availability in NEMA 1 or 3R enclosures.
Main lugs are mounted at the top for overhead feed or for use with an underground pull section.
Accessibility: front, rear, or side.
The switchboards are UL 891-listed
Consists of a hot sequence utility compartment as per EUSERC requirements.
Mains rating up to 5000A
Voltage: 120/240, 208Y/120, 240/120, 480Y/277, 600 Vac or 250Vdc
Systems: 1Ø3W or 3Ø4W.
Maximum SCCR 200 kA fusible, 65 kA circuit breaker.
List of accessories –

Bus links for donut-type current transformers
Sub-feed circuit breakers from 100 to 225 A
Underground pull sections
Loadside wireway
I-Line plug-on distribution panel for QO circuit breakers
Optional Seismic compliance of Synergy Switchboards
Our Synergy Switchboards adhere to the requirements of the International Building Code (IBC), California Building Code (CBC), Office of Statewide Health Planning and Development (OSHPD), and ASCE/SEI 7 based on triaxial shake table testing; for equipment operation after a seismic activity.
A shake table testing was conducted by an independent test facility and compliance was verified to Ip = 1.5. The post test equipment functionality was verified as per the ASCE 7 requirements, which are a part of the seismic designated system.
Synergy Switchboard Range – Benefits and Applications
Our Synergy Switchboard range provides various benefits, which include –
Custom or standard installation options
Quick installation time and mounting facility
Offer short lead times and an expedited delivery
Quality Management System ISO 9001 Manufacturing
The Synergy Switchboard range has applications in various industries, which include:
Manufacturing
Water wastewater
Commercial buildings
Healthcare facilities
Data Centres
Textile
Industrial buildings
Commercial office buildings
Pharmaceuticals
Offshore Designs Available
Oil & Gas
Contact Us for availing our products. We are happy to help and walk you through the installation process.
"We provide our customers with the quickest delivery possible of our high-quality services."
"Spike solutions result in reduced unplanned downtime, less overtime, and greater operational efficiencies."
The highest quality at the quickest speed.
Spike can deliver the same name-brand electrical gear in a fraction of the time.