Switchracks – Custom & Rush Solutions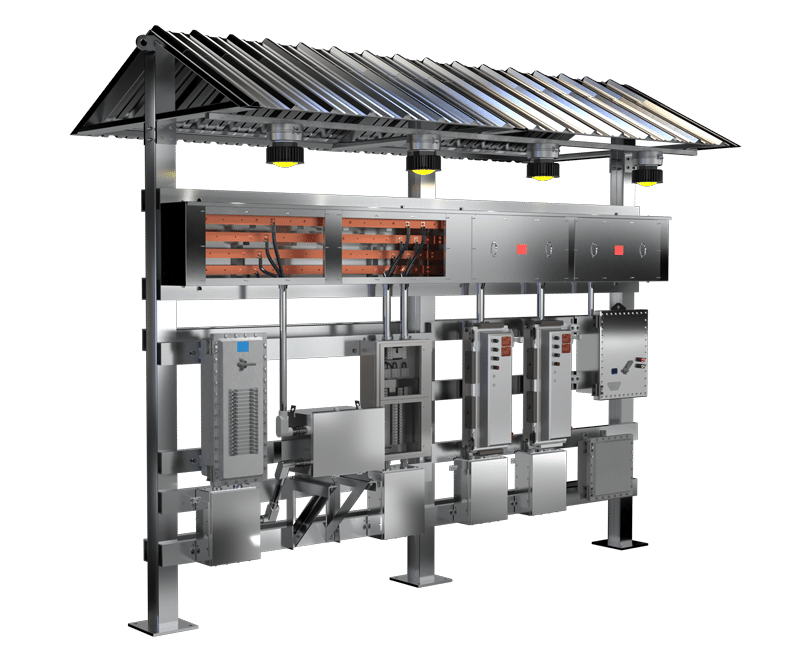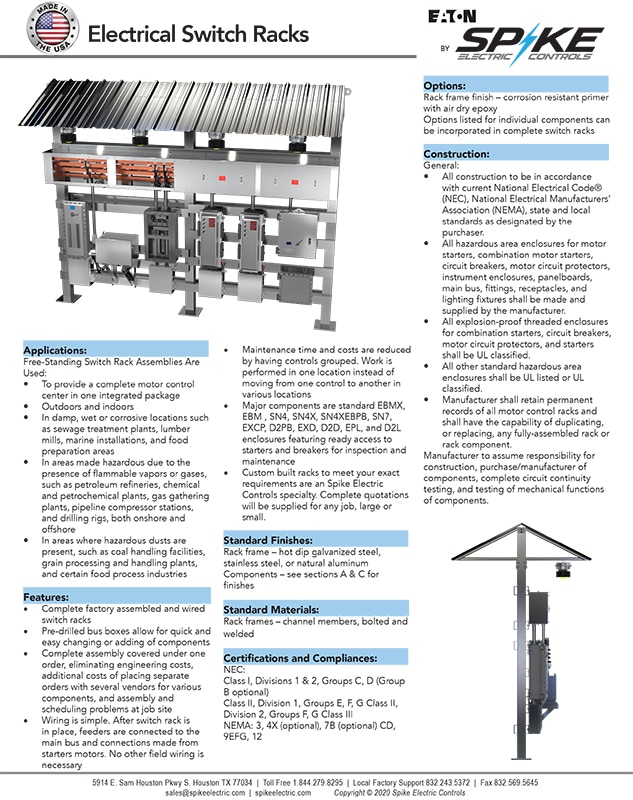 Learn more about electrical switchracks in this in-depth video from Spike.
Switchracks: Industrial Applications
Free-Standing Switchrack Assemblies are used in multiple scenarios. They are used outdoors and indoors, and they are also used:
To provide a complete motor control center in one integrated package
In damp, wet or corrosive locations such as sewage treatment plants, lumber mills, marine installations, and food preparation areas
In areas made hazardous due to the presence of flammable vapors or gases, such as petroleum refineries, chemical and petrochemical plants, gas gathering plants, pipeline compressor stations, and drilling rigs, both onshore and offshore
In areas where hazardous dusts are present, such as coal handling facilities, grain processing and handling plants, and certain food process industries
Electrical switchracks provide a complete motor control center in one integrated package.
Why Choose A Spike Electric Switchrack Assembly
Spike Electric provides the quickest delivery of the highest quality manufactured electric gear. We interact with our customers with high-quality customer service. That means you get:
Two-Week Turnarounds (or faster) on Most Orders
High Quality Manufacturing
High Quality Customer Service
A Manufacturing Parter for Years to Come
How does that translate into value for you? That's simple.
Working with Spike Electric Controls means:

Reduced Downtime
Less Overtime for Your Staff
Greater Operational Efficiencies
Switchrack 3D Renderings
Take a quick look at a 3D rendering of one of our electrical switchracks. These switchracks serve well in industrial scenarios, such as oil refineries. To learn more, call us or read our blog on the benefits of switchracks for refineries. 
Complete factory assembled and wired switchracks
Pre-drilled bus boxes allow for quick and easy changing or adding of components
Complete assembly covered under one order, eliminating engineering costs, additional costs of placing separate orders with several vendors for various components, and assembly and scheduling problems at job site
Wiring is simple. After switchrack is in place, feeders are connected to the main bus and connections made from starters motors. No other field wiring is necessary
Maintenance time and costs are reduced by having controls grouped. Work is performed in one location instead of moving from one control to another in various locations
Major components are standard EBMX, EBM , SN4, SN4X, SN4XEBPB, SN7, EXCP, D2PB, EXD, D2D, EPL, and D2L enclosures featuring ready access to starters and breakers for inspection and maintenance
Custom built racks to meet your exact requirements are an Spike Electric Controls specialty. Complete quotations will be supplied for any job, large or small
Standard Finishes:
Rack frame – hot dip galvanized steel, stainless steel, or natural aluminum
Components – see sections A & C for finishes
Standard Materials:
Rack frames – channel members, bolted and welded
Certifications and Compliances:
• NEC:
Class I, Divisions 1 & 2, Groups C,
D (Group B optional)
Class II, Division 1, Groups E, F,
G Class II, Division 2, Groups F, G
Class III
• NEMA: 3, 4X (optional), 7B (optional) CD, 9EFG, 12
Options:

Rack frame finish – corrosion resistant primer with air dry epoxy
Options listed for individual components can be incorporated in complete switchracks