Electrical Enclosures 
—

Explosion Proof & Heavy Duty
Explore Spike Electric's Enclosures for Nearly Any Industrial Situation
Spike Electric's Electrical Enclosures feature an optimized design and fast production lead times. They are available in more than 100 standard sizes, some with optional conduit and device drilling and tapping. Spike has a solution for hazardous and non-hazardous locations with these product lines:
ECP Explosion-Proof Enclosures
EJB Explosion-Proof Junctures
Ex-Cell Enclosures
We also offer electrical enclosures for Type 3S and 4X applications. We create enclosures for your particular situation with unique design features, precision manufacturing, and the highest quality materials.
High Performance, High Reliability Electrical Enclosures for Global Applications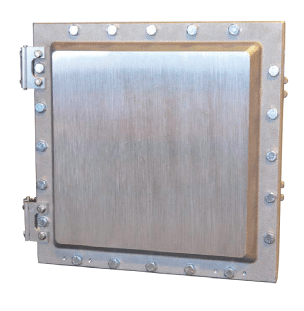 Why Choose A Spike Electric Product
Spike Electric provides the quickest delivery of the highest quality manufactured electric gear. We interact with our customers with high-quality customer service. That means you get:
Two-Week Turnarounds (or faster) on Most Orders
High Quality Manufacturing
A Manufacturing Parter for Years to Come
High Quality Customer Service
How does that translate into value for you? That's simple.
Working with Spike Electric Controls means:

Reduced Downtime
Less Overtime for Your Staff
Greater Operational Efficiencies
Explosion Proof Enclosures
"We provide our customers with the quickest delivery possible of our high-quality services."
"Spike solutions result in reduced unplanned downtime, less overtime, and greater operational efficiencies."
The highest quality at the quickest speed.
Spike can deliver the same name-brand electrical gear in a fraction of the time.
Certifications and compliances
(Not available for every model.)
NEC, CEC and CSA:

Class I, Division 1 & 2, Groups B, C, D

Class I, Divisions 1 & 2, Groups BA, CB, DC

Class I, Zones 1 & 2
Class II, Division 1, Groups E, F, G
Class II, Division 2, Groups F, G
Class II, Division 1 & 2, Groups E, F, G
Class III
cUL to CSA C22.2 No. 30, No. 25
NEMA Type 3, 3R, 4, 7BCD, 9EFG
Enclosure Type 4X (requires selecting 4X option)
IECEx:

Ex db IIB+H2 Gb
Ex tb III C Db IP66
-20°C ≤ Ta ≤ +60°C
IECEx ETL 13.0022U
ATEX:

II 2 G D Ex db IIB+H2 Gb
Ex tb IIIC Db IP66
-20°C ≤ Ta ≤ +60°C
ITS13ATEX17813U certified
Ex d IIB + H2 T6, IP66
ATEX certificate: ITS08ATEX15797U
IEC Standards:

EN:60079-0 and EN:60079-1
IECEx certificate: IECEx ETL 13.0040U
Environmental Ratings:

Enclosure type 3, 3R, 4, 4XA, 7BCD, 9EFG
Applications for Spike Electric Enclosures
(Does not apply to every model.)
As a junction or pull box
To provide enclosures for splices and branch circuit taps
For housing terminal blocks, relays and other electrical devices
Indoors or outdoors in damp, wet, dusty, corrosive, hazardous locations
Where exposure to frequent or heavy rain, water, spray, moisture and humidity is common, such as: offshore drilling facilities, cooling towers, coal preparation and handling facilities and sewage and waste water treatment
In areas which are hazardous due to the presence of hydrogen or gases and vapors of equivalent hazard such as found in process industries, missile bases and gas manufacturing plants
How To Review Your Existing Suppliers
How does a late shipment affect you?
First, does it result in production delays?
Second, does it result in unbudgeted overtime?
Finally, does it result in other expedite fees or expedited shipping costs?
What's the true cost of quality to you?
Does poor quality delay your production schedule?
Does it consume other resources, such as engineering, that could be working on more productive tasks?
How are future sales affected by a quality failure in the field?
Won't it cost more to outsource than to do it internally?
Do you have the proper equipment to machine the part internally?
Do you have hazardous location UL listings?
How is the quality with the internal process?
Does the quality cause more problems in subsequent operations?
If you consider lost labor time at all stages, what's the true cost of the part?
Can your existing labor be better utilized doing something else?
What other value-added services do you get?
Are critical dimensions nominal, or just in tolerance?
Do you get suggestions on cost savings?
Before the parts are made, do you get print or tolerance errors pointed out?
Do you get help during initial design stages, to reduce cost and time?