Retrofit Motor Control Buckets
A motor control Center or an MCC is a crucial aspect of any facility. It is the central location from where all the electric motors in a facility are controlled. How has your MCC been working? Have several years passed since you've integrated an MCC for your facility? If the answer is yes the chances are that your MCC  is missing out on the latest and the most efficient advancements in electrical technology. What can you do to upgrade your MCC according to the latest technology? You do not have to replace the entire system. To make your MCC modern and advanced, all you need is Retrofitting. Let's look into it in detail.
A total replacement of an MCC is a costly affair. On the other hand, incorporating advanced technology into an existing MCC utilizing Retrofitting is a practical and economical option.
What does it mean to r
etrofit motor control buckets

?

To put it in simple terms, Retrofitting is the process of adding new and advanced features to existing older systems. The main purpose of Retrofitting is to improve the longevity and functionality of an existing system. Consider this, a total replacement of an MCC is a costly affair. On the other hand, incorporating advanced technology into an existing MCC utilizing Retrofitting is a practical and economical option.

How does Retrofitting help in the improvement of an existing MCC's life span? An aged MCC might cause malfunctions that may result in minor damage to the property in a manufacturing facility. Also, most aged MCC's cannot communicate via DCS, PLC communications, or lack power metering capabilities.  When an old MCC is upgraded, the risk for malfunctions significantly decreases and also enables the MCC to communicate.  Companies can avoid the situation of facility or machine shutdowns, save money and prevent downtime.

Retrofitting is not rocket science. It is a simple and hassle-free process for us. You can select the upgrades you want to incorporate into your aged MCC. You get to choose from a range of smart automation options to upgrading to the most recent over current protection options. A custom selection of upgrades allows users to modernize their MCC's strategically, which will ultimately lead to a significant reduction in maintenance costs and will prevent the risk of downtime.
Why Choose An Upgrade?
Upgrading is a better and practical option than replacement.
Why?
When an MCC ages, its components wear out and may become obsolete in terms of functionality. Retrofitting an MCC improves its reliability and performance. By upgrading components of an MCC, one can reduce the risk of malfunctioning. A manufacturing facility will be able to avoid unnecessary repair costs and lack of productivity.
Technology is critical to todays industrial, electrical, and manufacturing fields. Among several beneficial factors of Retrofitting, one is its ability to predict problems. Getting your MCC upgraded will help you to obtain data on the functionality of various components in the electrical system, which makes preventative maintenance possible. You can order components that need a replacement well in advance and can ensure the continuous flow of productivity in your facility.
For any manufacturing facility, the safety of the plant and personnel is of utmost priority. The presence of worn-out cables, malfunctioning units, and current overload can put the safety factor at risk. An upgrade of the MCC through Retrofitting will eliminate all possible causes that threaten the safety of the manufacturing unit. If you want to enhance the safety quotient of your facility, opt for an MCC upgrade.
The Process Of Retrofitting An MCC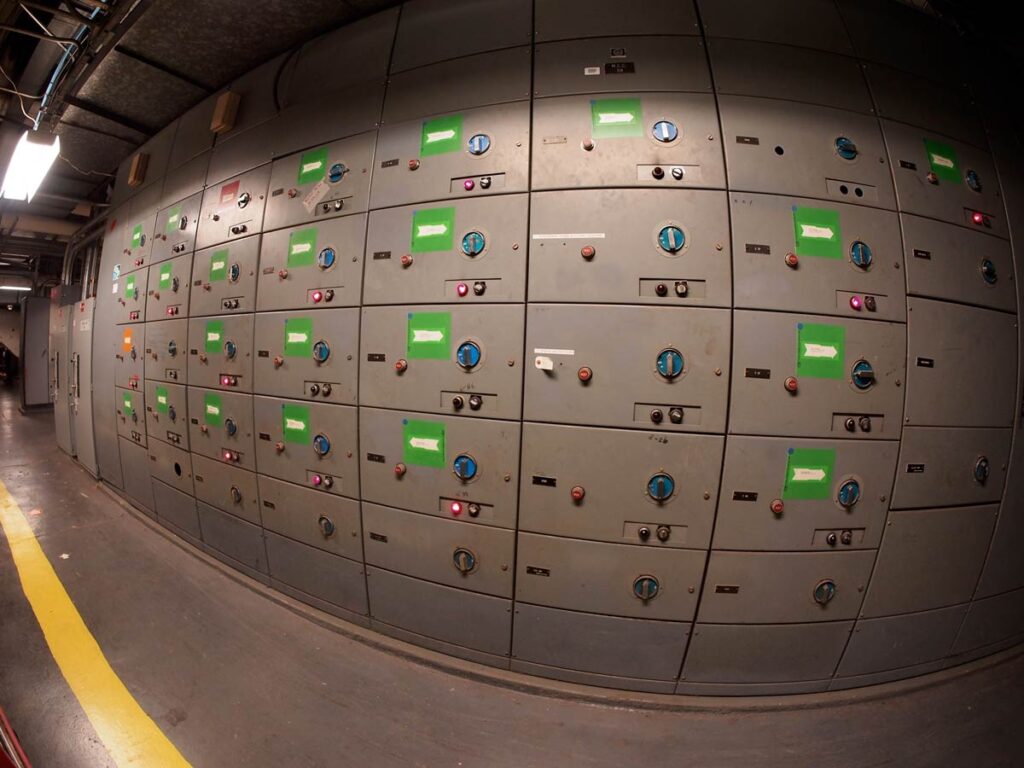 Retrofitting is the most practical and economical option to ensure the reliability, functionality, and longevity of your MCC. An outdated MCC can be a serious threat to any manufacturing or industrial facility. Retrofitting can help an aged MCC to function like a modernized and advanced version. So, how does the process of Retrofitting work? You can start by choosing the individual elements or buckets that you want to update. For example, you can select among drives, soft starters, soldi state overloads, communication modules, and allot more. Once you decide on the element you want to upgrade, the old component will be pulled out and replaced by a new and modern one. Let's look into this in detail.
What is a Retrofit bucket? It is a design that is an adaption of the modern version of the product to replace the older or aged MCC. Generally, new and upgraded components with the same assembly and door as the older components are a part of the design in the Retrofit bucket. Retrofitting is more like a plug and play solution. You can simply plug in the latest updates and eliminate the safety concerns. We will supply you with wiring schematic approval drawings just to ensure the bucket is built the way you want it.
The normal life span of an MCC is 8 years, after which a new upgrade is released into the market. New variable frequency drive new technology comes out every 7 years.  Often, many facilities fail to upgrade their drives in this period and end up using aged variable frequency drive buckets for decades. Obsolete older VFD buckets might find it challenging to upgrade to a newer drive, they do not . But we can help with our retrofit variable frequency drive buckets or VFD buckets.
Some methods of Retrofitting also include the use of CPwE or Converged Plantwide Ethernet Network. Aged MCCs require standardization, upgrades, and integration of modern technologies. Retrofitting an MCC helps you to accomplish it all. How? You can automate processes and control systems using Retrofitting and bring them under one cloud with the help of CPwE. Hence, you will be able to possess full control over your crucial assets which can be remotely accessed through mobile phones, laptops, and electronic tablets.
We all know how Ethernet has evolved in recent years. Incorporating Ethernet into the process of Retrofitting is an effective method to ensure the reliability and monitoring of the upgraded components. Also, the current speeds of Ethernet are placed at 100 megabits per second which can transfer internet data across the interconnected computer systems within a manufacturing facility at incredible speeds. Remote monitoring while you are on the go can be handled hassle-free. You can choose the Ethernet upgrade in the Retrofit bucket and avail the associated advantages.
Cost Of Retrofitting An MCC
An MCC is a crucial part of a facility. They are of significant use in a variety of environments like motors, fans, and large-scale electronic equipment. They are the core aspects of several industrial systems. While they age, their buckets must be upgraded, modified, and retrofitted without having the entire section pulled out and replaced. What though, is the cost of retrofitting an outdated MCC?
The cost of the process varies concerning the components that have been chosen to be upgraded. On a general note, retrofitting is half the total cost of an entire replacement. What can a manufacturing unit effectively and economically implement the process of Retrofitting? One can make a correct list of the elements and components that need an upgrade. That way a correct budget can be prepared, and Retrofitting can be implemented effectively. Upgrades can prevent future repair and maintenance costs which will result in savings, decrease downtime. Retrofitting can help companies to incorporate upgrades whenever and wherever needed. This will prevent spending the budget all at once and save money from the total expenditure.
The Future Of Retrofitting
So what does Retrofitting hold for the future? A simple answer to that is the advanced and incredible advantages of technology. Consider how Retrofitting can change the way manufacturing and industrial facilities function over time.
Retrofitting Improves Reliability- The introduction of new components in place of aged MCC components will significantly increase the reliability of the equipment.
Retrofitting Reduces Downtime- Downtime is a scary word for any facility. Since the process of Retrofitting is more economical than a complete replacement, is easy to incorporate and install, and will further the longevity of the aged MCC, a company can witness a considerable reduction in downtime.
Introduction Of New Schematics- New components may require maintenance and troubleshooting in a few instances. New and workable schematics will be made available to users to ensure simple and easy troubleshooting in the future.
Retrofitting Resolves Safety Issues And Design Deficiencies- Aged MCCs pose a threat to safety standards and their outdated design may affect the productivity of the plant as a whole. Retrofitting will help overcome such negative possibilities and will enable plants to employ the latest designs which will ensure safety.
Retrofitting Is Cost-Effective- Be it a capital budget or a maintenance budget, Retrofitting is an economical method that will be of incredible use in the long run.
Purchasing a retrofit bucket from us improves digital document control. We will supply you with all of the Wiring Schematics, lay out drawings, components spec sheets, & Quality Control testing documents on the mcc bucket. That way you can load it into your server for easy maintenance personell access.
Choose The Best Retrofitting Options 
If you are considering Retrofitting your facility, do weigh out the best upgrade options available to you. Also, take into consideration your budget and make the right choice.
Run a proper analysis of the need and requirements of your plant and choose the Retrofit bucket accordingly. Before finalizing make sure you consider the following aspects:
How will the process of Retrofitting be implemented? What technical aspects will be put to use?
What is the status of your current MCC? Will it readily be able to handle the upgrade in terms of its existing voltage, current, and other specifications.
Then draft the features you want to upgrade, and prepare a suitable budget. 
"We provide our customers with the quickest delivery possible of our high-quality services."
"Spike solutions result in reduced unplanned downtime, less overtime, and greater operational efficiencies."
The highest quality at the quickest speed.
Spike can deliver the same name-brand electrical gear in a fraction of the time.