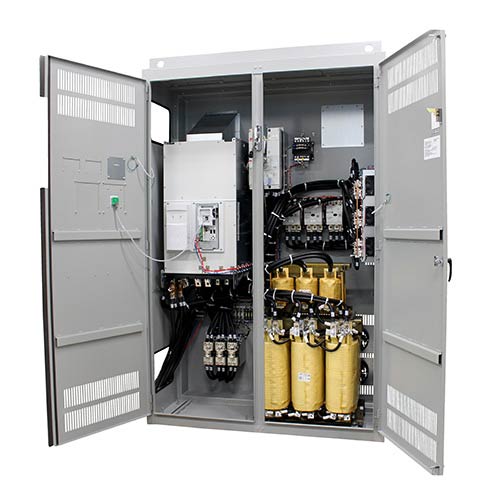 Everything You Need To Know About VFD Control Panels
VFD stands for Variable Frequency Drive. These panels are mainly used to control the speed of the electric motors and also of the feed pumps that are used in various industrial facilities. Every motor has varying frequency and voltage; hence they need a separate control panel that will effectively monitor and control them. A VFD control panel brings together or combines motor control devices and circuit protection devices in an enclosure. This control panel also offers protection to these devices from moisture, corrosion, dust, and other damaging factors. 
VFD control panels have different ratings from NEMA. Some of the most familiar NEMA ratings are NEMA 1, NEMA 3R, NEMA 4, and NEMA 4X. What components does a VFD control panel consist of? A VFD control panel is home to different control panel components like a VFD, line reactors, circuit breakers, harmonic filters, a cooling unit, some motor starters, and a bypass. Why does a VFD need a cooling unit? These control panels tend to produce a lot of heat; hence they require an integration of a cooling unit too. The above-mentioned components are just a few, though a lot more components are present in a VFD control panel.
These control panels are frequently used in drilling, pumping, and applications involving heavy-duty, large-scale machineries like Conveyor and Compressor. VFD control panels are available in a variety of power ratings too.
VFD stands for Variable Frequency Drive. These panels are mainly used to control the speed of the electric motors and also of the feed pumps that are used in various industrial facilities.
Does Your Industrial Facility Need A VFD Control Panel
To answer that question, first, consider how a VFD control panel works. The speed of a motor is controlled in two ways- either by voltage or by frequency. Controlling the speed through frequency is a preferred option because it results in a constant flux density. This is where a VFD comes into the picture. A VFD acts like a power conversion device that converts the fixed frequency and voltage of the input power to variable frequency and voltage of output power. What result does this effect have? Using VFD control panels thereby offers adjustable speeds for accurate control of processes. Additionally, using a VFD control panel also results in energy savings and conservation.
Consider this too. An industrial facility can go overboard on power consumption if it has equipment or devices that run at full speed at all times, even if they don't have to. This will result in consuming a significant chunk of power. So, in such cases, using a VFD control panel is a good choice. How does using this control panel be of help? Well, a VFD control panel draws power only when it is required. In other words, if the requirement of a motor changes, the control panel will change the speed of the motor according to the requirement. This results in huge amounts of energy conservation. Moreover, when the speed of motors is adjusted according to the requirement, their durability and longevity also increase significantly. 
VFD control panels are an AC drive. Hence, the maintenance costs of these control panels are less because DC motors or transmissions aren't involved. However, there is a word of caution. What is it? These control panels release a rather large amount of heat. Hence, there must be proper airflow in the premises of a VFD control panel. This ensures that the components in this control panel do not overheat. These control panels also ensure smooth operations. This results in reduced thermal and mechanical stress on motors and belt drives. So, does your industrial facility need a VFD control panel? Absolutely! And we at Spike Electric will be delighted to help you in possessing one. 
What Can You Expect?
Same Day Shipping
24/7 Real-Time Emergency Support
A Global Supplying Network
1-Year Guaranteed Warranty
An Ideal Destination For VFD control Panels
Spike Electric has all the resources that would help you in obtaining one. We have an excellent team of experts on board with us, and we also take pride in our exclusive list of VFD control panels. We have a wide range of industrial products, including new, reconditioned, and customized control panels.
All of our products are certified by the UL 508A Certification, which credits us with the ability and resources to handle requests for industrial control panels of all types. So, reach out to us and let us be your trusted partner for all your VFD control panels.
What Can You Expect From A Collaboration With Spike Electric?
1. An Exclusive Collection And An Experienced Team
We have a unique, superior and exclusive collection of industrial products, including VFD control panels. If you choose to obtain a VFD panel from a high-end manufacturer, we will be ready to supply it. We will also customize a VFD Panel based on your recommendations and specifications. Whatever may be the requirement, we will develop numerous configurations and designs and choose the best among them, which would be a perfect fit for your industrial facility. We will perfectly deliver VFD control panels that can be used for both simple and complex processes and industrial equipment. Additionally, we have an excellent team of technicians who have immense experience and expertise. They will monitor everything till we deliver your VFD panel to you.
2. A VFD Control Panel In Compliance With UL 508 Regulation
Safety and regulations are an integral part of industrial products and equipment. Spike Electric has the UL 508A certification, which credits us with supply of industrial control panels with impressive performance and high degrees of functionality and efficiency. All of our industrial products, control panels, and services are certified by the UL 508A regulation. So, don't stress about the quality of service we will be providing you with.
3. 24×7 Available Technical Assistance And Support
We are unlike several industrial dealers and suppliers who leave right after the completion of a certain project. But, Spike Electric believes in long-term relationships with all its customers and clients. Therefore, our team always strives to give 100% satisfaction to all of our customers. That is the reason we continue offering technical support and assistance in emergencies. We believe that our work isn't over with delivering a VFD control panel for your facility. We will continue to be a trusted and reliable partner. Our team of technicians will be available at all times to provide real-time support and assistance as long as you own the VFD control panel.
For information on our custom VFD control panel services, request a quote today.
Why Choose Spike Electric?
In addition to our custom-design services, prompt delivery, easy installation, and real-time emergency support, we also have a list of other services at your disposal which make us the ideal destination for all VFD control panel needs. Below are the additional services we offer.
Upgrade Or Retrofit
Does your industrial or manufacturing facility have old and aged VFD control panels lying around? Well, you don't have to dispose of them yet. While we keep stock of a wide range of quality and high-standard industrial equipment, we also buy back unwanted VFD control panels from various facilities and units. So, if you have some unwanted VFD control panels lying around, do get in touch with our team of experts. Our technicians will have a look at your equipment, inspect the various components and will suggest a solution. This process of ours is aimed to save money for you and to save the environment too.
Guaranteed Warranty
We believe in being an ever-supporting partner. Hence, our service doesn't end with design and delivery. We ensure that every industrial combination starter that we deliver is of exclusive and superior quality. Our firm quality standards and principles have helped us to build long-term relationships with our customers and clients. Hence, we offer a 1-year replacement warranty for all the electric products and solutions that we deliver. You can collaborate with Spike Electric with complete confidence because we deliver not just products but reliability and performance too.
Our Range Of Products
We host a wide range of industrial equipment that will cater to all your specifications and needs. We have outlined the three categories of equipment that we host.
NEW
 Our expert staff and technicians will always be able to deliver according to your individual preferences. We have a broad network of suppliers, which enable us to deliver several products and solutions. Tell us what your need, and we will source it for you.
RECONDITIONED
 Yes. We provide reconditioned VFD control panels as well. We believe in delivering quality products and solutions that have reliability and longevity. Hence, our reconditioned VFD control panels and other equipment are thoroughly inspected and will offer services that are as good as new equipment. Also, our reconditioned equipment is affordable because while quality is high, cost needn't be.
UPGRADING
 Our large on hand inventory of contactors, circuit breakers, relays, PLC, and other control products we can help you upgrade the functionality of your control panel effectively.  Replacing the old with the newsiest technology doesn't always mean you have to completely tear out your existing panel along with the wire that has already been pulled. We can retrofit and engineer a new back panel for you with all of your components pre wired. We will supply you with a full 3D CAD lay out, a BOM of suggested upgraded components, along with wiring schematics showing you exactly how the upgrade will look. We will work with your contractor in technical questions to help ensure the old is taken out and the new replaced properly.
"We provide our customers with the quickest delivery possible of our high-quality services."
"Spike solutions result in reduced unplanned downtime, less overtime, and greater operational efficiencies."
The highest quality at the quickest speed.
Spike can deliver the same name-brand electrical gear in a fraction of the time.