Our clients will ask for examples of our work, and here is a prime example of a job we did for a client recently.
Before
A Houston-based refinery tank farm needed to replace an old Crouse Hinds explosion-proof hazardous location switchrack. They had limited space within the area but needed to double the amount of starters and disconnects. In addition, this rack was on the third story of a refinery and needed to be brought up in pieces.  
Before we started, this was their old setup.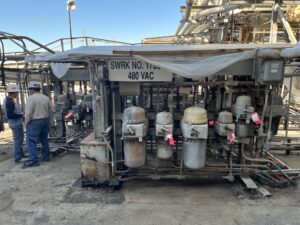 After
We engineered and designed a modular rack that had a "L" shape to it and could be lifted by a crane in sections. The final requirements was a 150 MPH wind rating due to hurricanes in the area.
All requirements were met, and the final cost came in below the clients estimated budget.
The team at Spike Electric offered compact explosion proof solutions that the clients didn't even realize were possible, and our client ended up with an innovative and creative final solution. Our field service group will be helping inspect the installation and ensure start up and commissioning goes flawlessly in the first quarter of 2023.
Here are a few photos of how this turned out:
More About Switchrack Assemblies
Free-Standing Switchrack Assemblies are used in multiple scenarios. They are used outdoors and indoors, and they are also used:
To provide a complete motor control center in one integrated package
In damp, wet or corrosive locations such as sewage treatment plants, lumber mills, marine installations, and food preparation areas
In areas made hazardous due to the presence of flammable vapors or gases, such as petroleum refineries, chemical and petrochemical plants, gas gathering plants, pipeline compressor stations, and drilling rigs, both onshore and offshore
In areas where hazardous dusts are present, such as coal handling facilities, grain processing and handling plants, and certain food process industries
Written by: Cole Attaway
Cole Attaway is the founder and CEO of Spike Electric Controls. Spike's mission is to improve the accessibility and delivery of industrial electrical gear for clients nationwide. Spike solutions result in reduced unplanned downtime, less overtime, and greater operational efficiencies.
The highest quality at the quickest speed.
Spike can deliver the same name-brand electrical gear in a fraction of the time.