SN4 Industrial Combination and Non-Combo Starters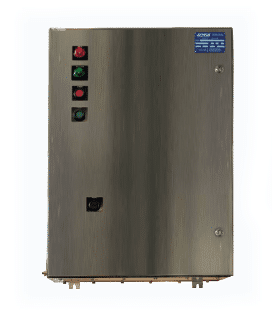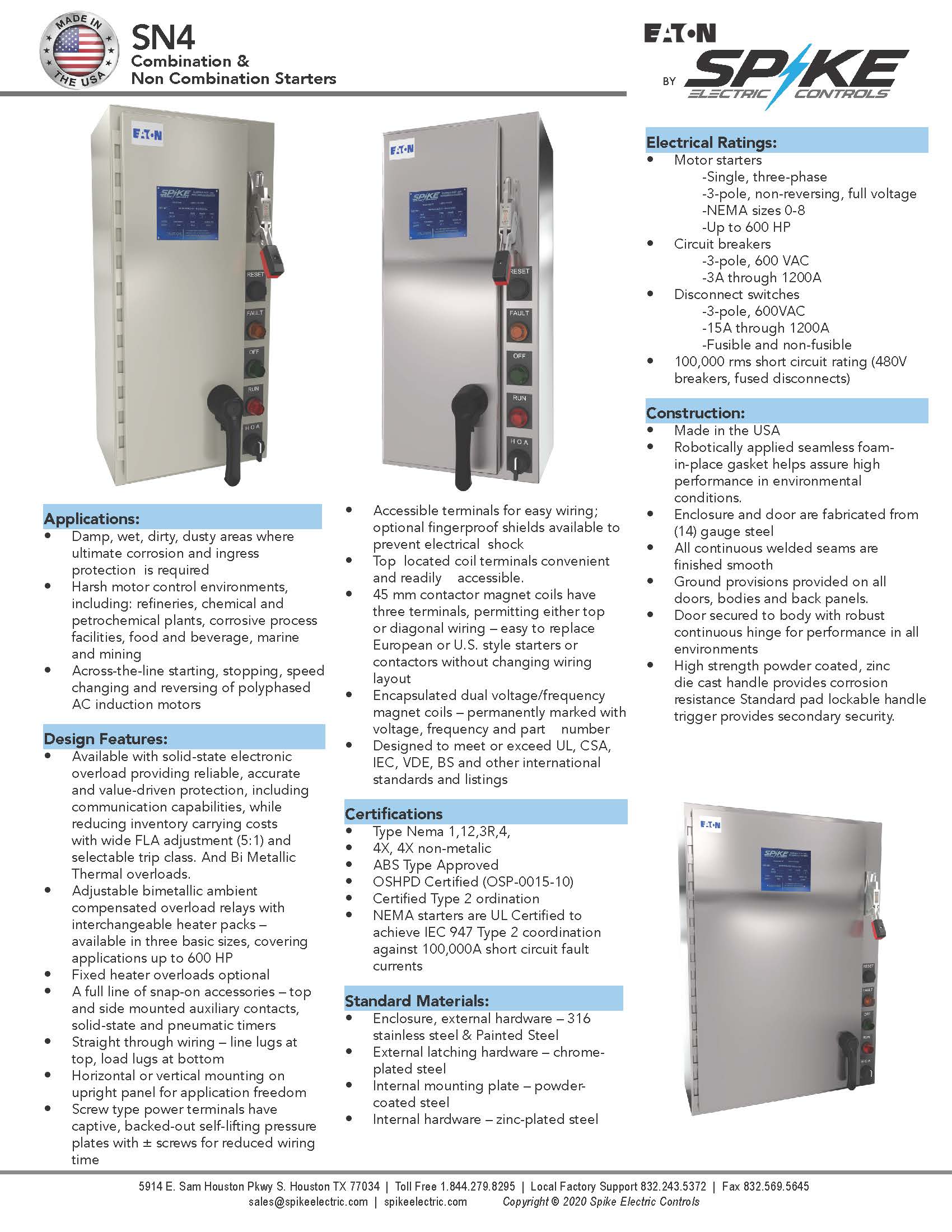 Nema Size starters 00 – 2 may take a 50VA CPT if when there is minimal controls.
Damp, wet, dirty, dusty areas where ultimate corrosion and ingress protection is required
Harsh motor control environments, including: refineries, chemical and petrochemical plants, corrosive process facilities, food and beverage, marine and mining
Across-the-line starting, stopping, speed changing and reversing of polyphased AC induction motors
Available with solid-state electronic overload providing reliable, accurate and value-driven protection, including communication capabilities, while reducing inventory carrying costs with wide FLA adjustment (5:1) and selectable trip class. And Bi Metallic Thermal overloads.
Adjustable bimetallic ambient compensated overload relays with interchangeable heater packs – available in three basic sizes, covering applications up to 600 HP
Fixed heater overloads optional
A full line of snap-on accessories – top and side mounted auxiliary contacts, solid-state and pneumatic timers
Straight through wiring – line lugs at top, load lugs at bottom
Horizontal or vertical mounting on upright panel for application freedom
Screw type power terminals have captive, backed-out selflifting pressure plates with ± screws for reduced wiring time
Accessible terminals for easy wiring; optional fingerproof shields available to prevent electrical shock
Top located coil terminals convenient and readily accessible.
45 mm contactor magnet coils have three terminals, permitting either top or diagonal wiring – easy to replace European or U.S. style starters or contactors without changing wiring layout
Encapsulated dual voltage/frequency magnet coils – permanently marked with voltage, frequency and part number
Designed to meet or exceed UL, CSA, IEC, VDE, BS and other international standards and listings
.
Electrical ratings:
Motor starters
– Single, three-phase
– 3-pole, non-reversing, full voltage
– NEMA sizes 0-8
– Up to 600 HP
Circuit breakers
– 3-pole, 600 VAC
– 3A through 1200A
Disconnect switches
– 3-pole, 600VAC
– 15A through 1200A
– Fusible and non-fusible
100,000 rms short circuit rating (480V breakers, fused disconnects)
Type Nema 1,12,3R,4,
4X, 4X non-metalic
ABS Type Approved
OSHPD Certified (OSP-0015-10)
Certified Type 2 ordination
NEMA starters are UL Certified to achieve IEC 947 Type 2 coordination against 100,000A short circuit fault currents
Enclosure, external hardware – 316 stainless steel & painted Steel
External latching hardware – chrome-plated steel
Internal mounting plate – powder-coated steel
Internal hardware – zinc-plated steel