EBMB Series Circuit Breakers and Enclosures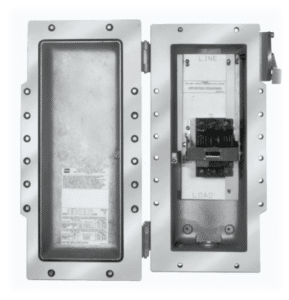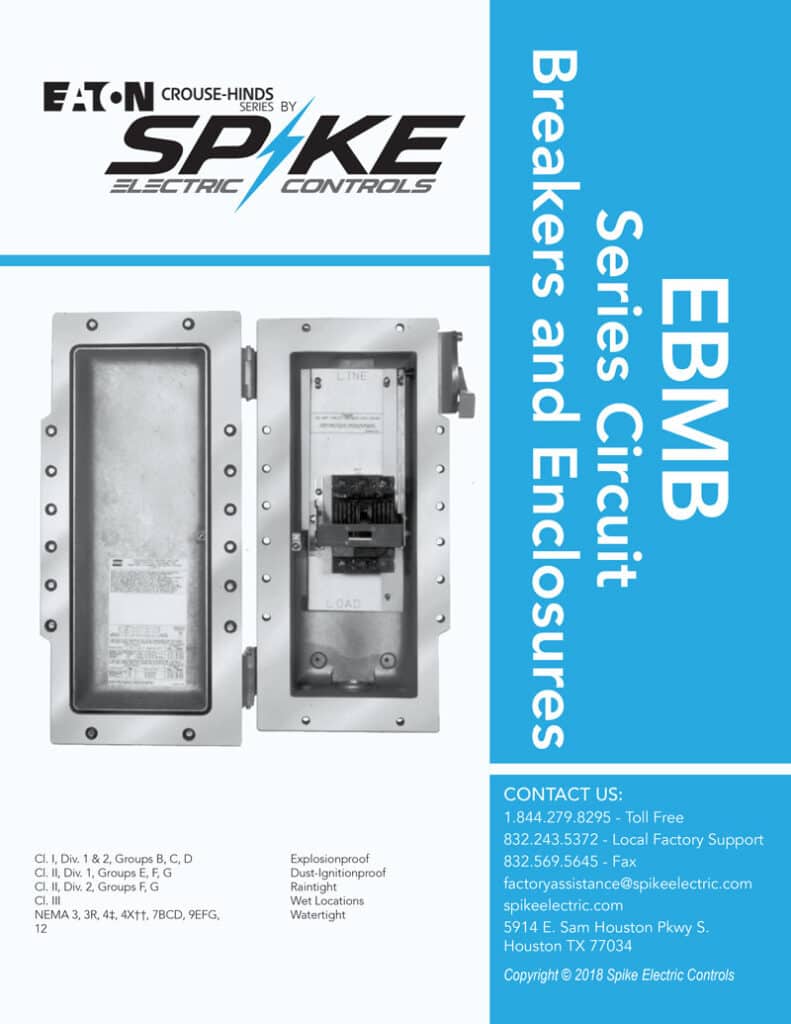 Spectrum™ EBM hinged cover motor control enclosures are used:
For general motor control – indoors or outdoors – in damp, wet, dirty, dusty hazardous locations, without the need for a protective shelter.
In areas where frequent washdowns are necessary or where heavy rain or water spray is prevalent.
For across-the-line starting, stopping, speed changing and reversing of polyphase AC induction motors.
To provide motor overload and undervoltage protection.
On switchracks or other assemblies where it's desired that motor control be centrally located.
Rugged, corrosion resistant, cast copper-free aluminum construction (less than 0.4 of 1%).
Motor starter operating handle located through the right side wall of the body permits visual confirmation of correct component assembly and operation.
Total compliance to the wiring end room requirements of the National Electrical Code® and Canadian Electrical Code.
Semi-clamshell enclosure design, with an external flanged ground joint between body and cover makes interior components more accessible.
Minimum enclosure-to-enclosure spacing with little interference between the opened cover and an adjacent enclosure.
Copper-free aluminum hinges allow the cover to swing
well out of the way.
Stainless steel, quick release, captive, hex head cover bolts. Stainless steel springs provide clear indication cover bolts are fully retracted from body.
Versatile, internal operating mechanisms allow for field adjustment to accommodate popular manufacturers' starters.
Simple, straightforward installation of starter on predrilled mounting plate within enclosure. Mounting plate also field removable.
Neoprene cover gasket permanently attached to the cover seals out moisture.
Bodies have top and bottom drilled and tapped entrances for power conduits plus one at the bottom for control conduit. Removable reducers are supplied as standard, to accommodate smaller size conduits. All conduit entrances are plugged.
Tap-on mounting feet.
Optional EMPS control devices may be added to enclosure cover.
Steel bracket for lifting larger enclosures during installation supplied as standard.
Electrical Rating Range:
Motor starters – NEMA/EEMAC sizes 0–5
NEC/CEC
Class I, Division 1 & 2, Groups B, C, D
Class II, Division 1 & 2, Groups E, F, G
Class III
UL Standards: UL1203
NEMA: 3, 3R, 4‡, 4X††, 7BCD, 9EFG, 12
CSA Standard: C22.2 No. 30
Body and cover – copper-free aluminum
Operating handle – copper-free aluminum
Operating shafts and bushings – stainless steel
Cover bolts hinges washer and retractile springs – stainless steel
Interior parts – sheet steel electro-galvanized
‡Enclosure not suitable for NEMA 4 or 4X with cover mounted operators. ††With S752 or S753. National Electrical Code is a Registered Trademark of the National Fire Protection Association