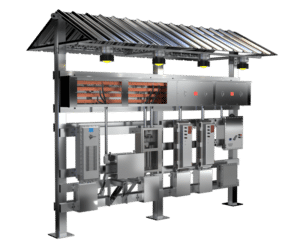 The atmosphere at oil refineries is far from hospitable. Their function is such that they are filled with highly combustible substances at all times. Most of the chemicals used in the oil refining process are extremely toxic and corrosive. Besides, the temperature, pressure, and humidity are usually very high as well. The confined structure of refineries further amplifies the impact of these factors.
In such an environment, many safety measures need to be taken to prevent fire and explosion. Malfunctioning electrical appliances are among the most common causes of fire. Hence, we must pay extra attention to electrical units in refineries.
What Are Electrical Switchracks?
Electrical Switchracks are custom-made solutions that can centralize electrical operations. Switchracks are assembled to suit the requirements of the clients. They may be prepared based on the design submitted by the clients themselves. The clients may also express their requirements to the switch rack company and let them create an efficient design to address their needs.
Electrical Switchracks Withstand Extreme Environments
Electrical switchracks for refineries are first constructed from aluminum, stainless steel, or carbon steel. Then they are hot-dip galvanized or powder coated. This makes them much more immune to the damp and corrosive atmosphere at oil refineries. It also results in fewer faults and ensures electrical safety.
For extra protection from natural elements like sunlight and rain, Switchracks are equipped with canopies. It makes them suitable for use outdoors, which might help free up a lot of space within the refineries.
Electrical Switchracks Are Convenient To Use
Ordering custom electrical switchracks for refineries eliminates a lot of unnecessary hassles. Since the entire product is assembled under one order and delivered, the client need not visit multiple places to gather different components.
They are custom-built to meet the client's needs, so all the required functions will be served easily. Since the system is centralized, all controls can be accessed from one place. The users don't have to move around too much to perform different operations.
They come with grouped controls and are built so that starters or breakers can be easily accessed. The bus-boxes of modern switchracks are pre-drilled. Hence, components can be added or replaced with ease. The modern designs of Switchracks make usage, inspection, and maintenance much simpler.
Electrical Switchracks Cut Costs
Since electrical switchracks are fully factory-assembled, they save the additional cost of placing separate orders for various components. The excess engineering cost involved in assembling the separately bought components is saved as well. 
After installation, switchracks can significantly cut down frequent repair and replacement expenses since they can withstand extreme environments. Also, the use of modern equipment ensures optimum power consumption and keeps the bills at reasonable levels.
Since inspection and maintenance are made easier by switchracks, they can be conducted more frequently. This ensures quick identification of faults and prevents larger issues from developing, which keeps away heavy damage repair costs.
It's time to say goodbye to old electrical systems! Reach out to Spike Electric Controls for designing electrical switchracks suited to your refineries. The company has all the necessary certifications and years of experience, making it the perfect fit for your refinery's electrical transformation.
The highest quality at the quickest speed.
Spike can deliver the same name-brand electrical gear in a fraction of the time.