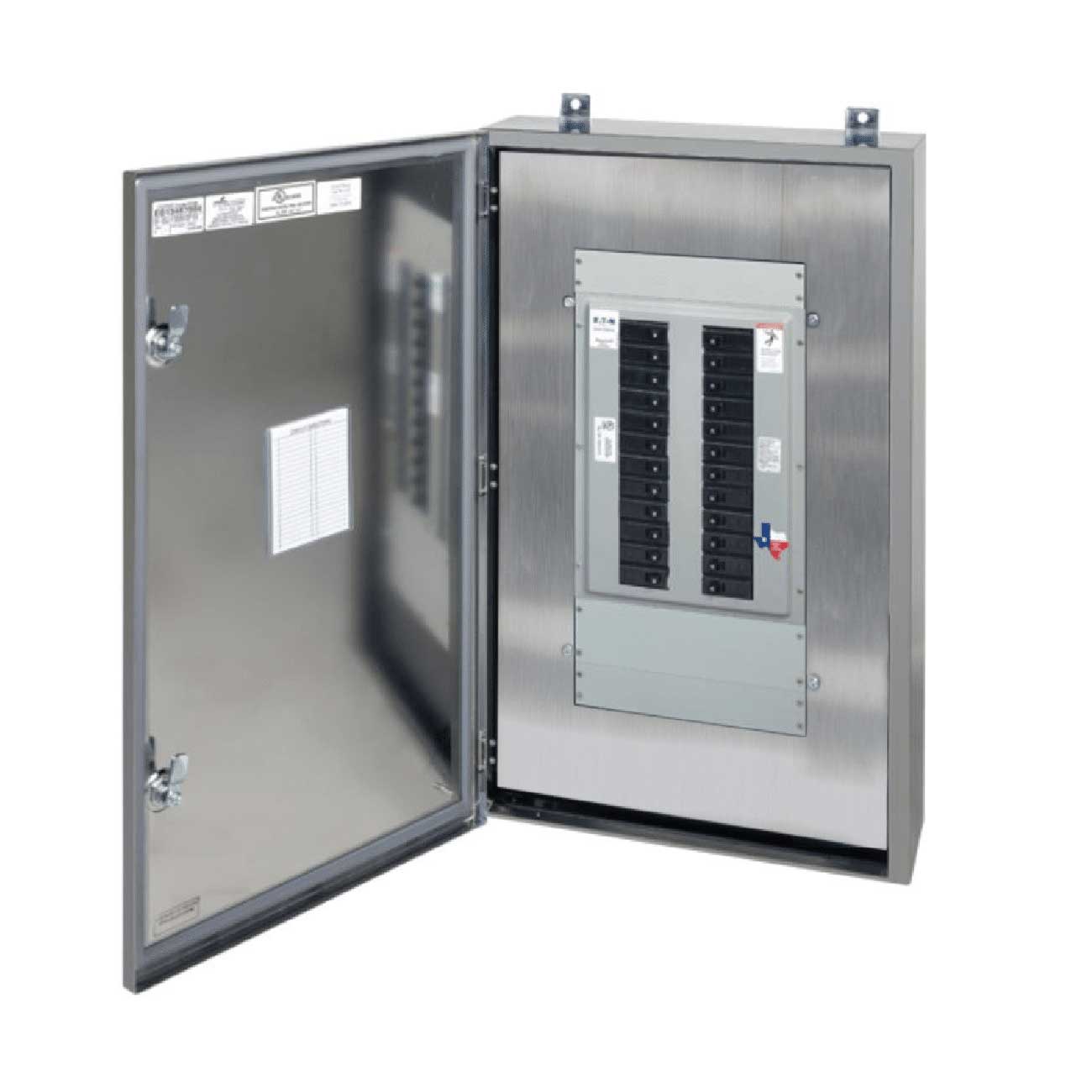 Everything About Lighting Panelboards
Let us first understand the purpose and basic features of electric panelboards. Panelboards are a vital part of any power distribution system. They are used to safely distribute electricity in several industrial, commercial, and residential facilities. A panelboard is one such important part of a power distribution system that is responsible for dividing an electric power feed into subsidiary circuits. While doing so, a panelboard operates through a circuit breaker or fuse that provides protective gear for every respective circuit within the collective enclosure. Why is a panelboard such an essential component for a power distribution system? To state simply, a panelboard offers efficient protection to branch circuits from overloads and short circuits. Panelboards are designed to meet the specifications and regulations set out by UL and NEMA.
There are two types of panelboards. One is called a lighting and appliance panelboard and the other is referred to as a power distribution panelboards. Power distribution panelboards are significantly employed for heavy-duty and large-scale applications. However, lighting panelboards, on the other hand, are used as smaller power distribution panelboards. Lighting panelboards have a wide range of applications in both commercial and industrial lighting systems. These types of panelboards employ bolt-on breakers and have a current rating between 200 A and 800 A.
The main advantage of lighting panel boards is that they are flexible enough to be modified and configured to meet the required requirements and specifications. Additionally, lighting panelboards can be modified as the main breaker panelboard or a main lug panelboard. Irrespective of what you are looking for, lighting panelboards can be switched to function like one of them and vice versa based on your industrial preferences and requirements. Lighting panelboards come in a wide range of designs, configurations, and sizes. They enable multiple-pole circuit arrangements and have a broad range of applications. Lighting panelboards can efficiently function in many industrial spaces like warehouses, commercial spaces, and more.
Lighting panelboards are used as smaller power distribution panelboards. They have a wide range of applications in both commercial and industrial lighting systems, employ bolt-on breakers and have a current rating between 200 A and 800 A.
The Distinction Between Lighting And Power Distribution Control Boards
Like already mentioned, panelboards come in two categories. How do you differentiate between the both of them? Consider this definition. A panelboard is understood to be a lighting panelboard when it has more than 10% of components like breakers and fuses offering protection to the lighting and appliance branch circuits. To state in other words, more than 10% of the total circuit protection devices in a panelboard should be rated 30A or less. Lighting panelboards allow the functioning of only 42 circuits. If that number exceeds, then you have to employ two or more panelboards.
There are a few more details that you have to consider. One has to recognise the difference between circuits and devices. What does that mean? A single 2-pole circuit breaker functions like 2 circuits, though it seems to be a single device. Also, the above-mentioned strict definition that helps to differentiate between power distribution panelboards and lighting panelboards is no longer a compulsory definition that needs to be followed. This limitation has been removed by NEC since 2008. Yet, these definitions are still informally used to identify lighting panelboards and differentiate them from power distribution panelboards. Spike Electric has an expert team of technicians on board that will help you to make the right choice while purchasing a lighting panel board.
What Can You Expect?
Same Day Shipping
24/7 Real-Time Emergency Support
A Global Supplying Network
1-Year Guaranteed Warranty
Spike Electric – A Place With Exclusive Lighting Panelboards
With a wide range of industrial products and services, Spike Electric is your Ideal destination where all of your panelboard needs will be met successfully and efficiently. Consider the following features that we have curated for you. They come with all the lighting panel birds that we supply.
Prompt Shipping Of Products
Spike Electric Is A GE Authorized dealer
Emergency Assistance
Accelerated Options For Shipping
Pre-Assembled In-House Equipment
Stock Availability Upto 600amp
Single-phase 120|240 volts up to 22k AIC
Triple phase 120|208 volts up to 22k AIC
Triple phase 480 volts up to 14k AIC
Main Breaker or Main Lug
Copper Bushing
Availability Of Sub Feed
Stock Availability Of 18, 30, and 42 circuits
NEMA 1 and NEMA 3R Enclosures
Stamdard Door Options
Apart from the above-mentioned features, there are a lot of other advantages you will be able to experience when you collaborate with us. Read on to find out.
What Does A Collaboration With Spike Electric Bring To Your Table?
1. A Unique And Wide Range Of Lighting Panelboards
Spike Electric has an exclusive collection of industrial products. We take every minute requirement or preference of your industrial facility into serious consideration. Hence, our team of professionals will help you in purchasing a lighting distribution panelboard that will perfectly align itself with your industrial specifications and preferences. Spike Electric has a unique and wide range of lighting panelboards. They come in distinct designs, configurations, and sizes. Our industrial products will perfectly deliver satisfaction, performance, and quality.
2. Lighting Panelboards In Compliance With UL And NEMA Regulations
All our industrial products deliver reliable and durable performances. We give significant importance to safety. We know that safety and quality are the most important factors for any industrial process and facility. Therefore, we make sure that all our products, including lighting panelboards are in strict compliance with industry regulations.
3. Real-Time Support And Assistance
We will always be there for you in case of any malfunctions, technical concerns, and emergencies. There are many dealers and suppliers out there who bid goodbye after the completion of a certain project. But, Spike Electric believes in long-term relationships. We will not dust our hands off after the delivery of a lighting panelboard for your facility. We will continue to be your trusted and consistent partner. Our team of technicians will be available at all times to ensure real-time support and assistance as long as you possess the lighting panelboard.
For more information on our custom lighting panel board services, request a quote today. Or please fill the form below.
Why Choose Spike Electric?
In addition to our custom-design services, prompt delivery, easy installation, and real-time emergency support, we also have a list of other services at your disposal which make us the ideal destination for all lighting panelboard needs. Below are the additional services we offer.
1. Upgrade or Retrofit
Does your industrial or manufacturing facility have old and aged lighting panelboards lying around? Well, you don't have to dispose of them yet. While we keep stock of a wide range of quality and high-standard industrial equipment, we also buy back unwanted lighting panelboards from various facilities and units. So, if you have some unwanted lighting panelboards lying around, do get in touch with our team of experts. Our technicians will have a look at your equipment, inspect the various components and will suggest a solution. It's our effort to save your money and cut some slack for the environment.
2. Guaranteed Warranty
We believe in being an ever supporting partner. Hence, our service doesn't end with design and delivery. We ensure that every lighting panel board that we deliver is of exclusive and superior quality. Our firm quality standards and principles have helped us to build long-term relationships with our customers and clients. Hence, we offer a 1-year replacement warranty for all the electric products and solutions that we deliver. You can collaborate with Spike Electric with complete confidence because we deliver not just products, but reliability and performance too.
3. Our Range Of Products
We host a wide range of industrial equipment that will cater to all your specifications and needs. We have outlined the three categories of equipment that we host.
NEW
Our expert staff and technicians will always be able to deliver according to your individual preferences. We have a broad network of suppliers, which enable us to deliver several products and solutions. Tell us what your need and we will source it for you.
RECONDITIONED
Yes. We provide reconditioned lighting panel boards as well. We believe in delivering quality products and solutions that have reliability and longevity. Hence, our reconditioned lighting panel boards and other equipment are thoroughly inspected and will offer services that are as good as new equipment. Also, our reconditioned equipment is affordable, because while quality is high, cost needn't be.
NEW SURPLUS
With our large on-hand inventory of contactors, circuit breakers, relays, PLC, and other control products, we can help you upgrade the functionality of your control panel effectively. Replacing the old with the newsiest technology doesn't always mean you have to completely tear out your existing panel along with the wire that has already been pulled. We can retrofit and engineer a new back panel for you with all of your components pre-wired. We will supply you with a full 3D CAD layout, a BOM of suggested upgraded components, along with wiring schematics showing you exactly how the upgrade will look. We will work with your contractor on technical questions to help ensure the old is taken out and the new replaced properly.
"We provide our customers with the quickest delivery possible of our high-quality services."
"Spike solutions result in reduced unplanned downtime, less overtime, and greater operational efficiencies."
The highest quality at the quickest speed.
Spike can deliver the same name-brand electrical gear in a fraction of the time.