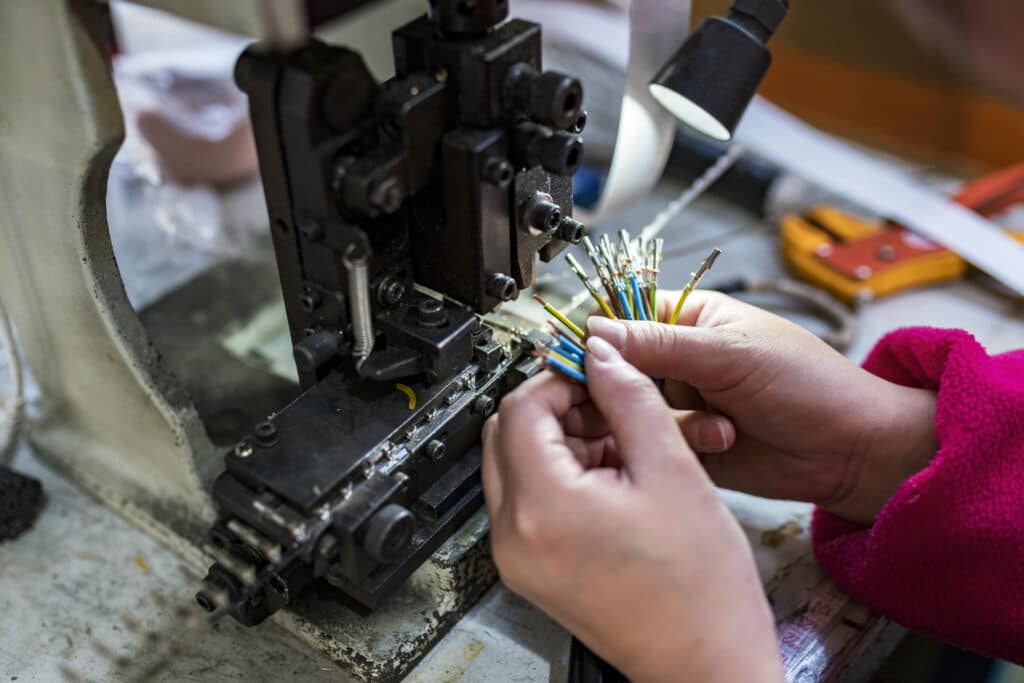 Wire harnesses are a collection of electrical wires. Each wire has its covering, and at the same time, the entire bundle is protected by an outermost protective covering. A wire harness is often used alongside a cable harness but technically there are subtle differences between them. In this blog, we will discuss what wire harnesses are used for and also the manufacturing process involved.
How is a Wire Harness Manufactured?
The manufacturing process of a wire harness can range anywhere from simple to complex. The design process takes place first. During the design creation, custom features will be added to suit the preferences of the intended application. The next step has 3 tasks:
Stripped: The wires are stripped either by hand or with our automated stripping equipment
Cutting: They are cut
Terminating: Metal terminals are attached to the ends of the wires. A piece of special machinery or tool is used to do this called the crimp centre
Then, the wires will be inserted into a piece of equipment called the connector housing. In this step, the Male and Female parts of the wires will be connected. Some will be connected to the connector housing, while others will be left to be connected to the main equipment. As the last step, the wires will be bound by an external protective covering and then are taken for final testing. The entire manufacturing process is often done manually because it is very delicate and cannot be done with complete automation.
What Are Wire Harnesses Used For?
Wire harnesses have a lot of applications in several industries. While all of them cannot be listed, here are a few industries that extensively use Wire Harnesses:
1. Automotive Industry
Wire harnesses are used in vehicles for a variety of purposes. Most importantly, they are used to relay information, signals and also electric power.
2. Flight Simulators
Wire harnesses are utilized in the airspace industry also. Flight simulators have to transmit information and power while complying with numerous performance standards and tight spacing parameters. That's where wire harnesses are used. They are used for the required transmission.
3. Flat Panel Displays
Flat screens also use wire harnesses. They are used to keep the wires in these displays organized and to eliminate electromagnetic interference.
4. Heavy Machinery And Equipment
Mostly, they are integrated with very heavy equipment that is used in the construction industry and other industries.
5. Crypto Mining Farms for PDU's or Power Distribution Units
A crypto mining farm is essentially a data center. While data centers typically house bit coin mining servers for web resources and storage. 
6. Ruggedized Computers
Computers that have been used in harsh environmental and military conditions are often called ruggedized computers. These computers use wire harnesses to protect the internal wires from dust and damage. Wire harnesses also offer protection from dirt, moisture and other damaging elements.
The Benefits of Using Wire Harnesses
Wire harnesses help in keeping the wires organized and they provide a significant degree of protection. In most demanding environments, wire harnesses can be used to offer the desired level of protection to the bunch of cables and wires. The following are a range of benefits that wire harnesses have to offer:
They optimize space by bounding the wires together
Improve aesthetics of a complete assembly
They can be customized to suit the specific industrial application needs
Cables and wires enjoy an extended life and durability due to wire harnesses
Wire harnesses enhance the safety quotient of various equipment and appliances
They are available in a variety of sizes, lengths, and also prices
Quality Wiring Harnesses By Spike Electric
Spike Electric is a certified UL764 manufacturer of wiring harnesses. We work with our clients to design the perfect wire harness and we have experts on board to perfectly execute the prototyping and production. As a certified UL manufacturer, we are a trusted platform and we submit every wire harness for extensive testing to ensure that it is secure. Get in touch with us today if you want quality wire harnesses for your industry.
Written by: Cole Attaway
Cole Attaway is the founder and CEO of Spike Electric Controls. Spike's mission is to improve the accessibility and delivery of industrial electrical gear for clients nationwide. Spike solutions result in reduced unplanned downtime, less overtime, and greater operational efficiencies.
The highest quality at the quickest speed.
Spike can deliver the same name-brand electrical gear in a fraction of the time.