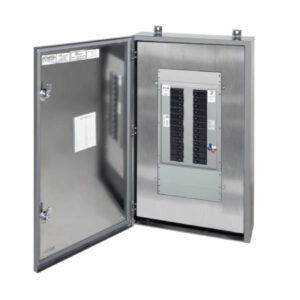 Stainless steel panelboards are designed and engineered to be used for applications where harsh chemicals or hose-down conditions exist. They offer a watertight and non-corrosive solution for power control and distribution in industrial applications. Specifically, stainless steel panelboards are effective solutions for industrial plants that require branch power distribution, over current, and protection from short circuits.
Spike Electric provides a wide and diverse collection of stainless-steel panel boards that cater to the ever-changing requirements of the industrial sector. Spike Electric provides stainless-steel panel boards in the popular two versions- A dead front and a swing panel version that has quickly accessible latches and a through-door operating handle version.
The dead front and swing panel version of the stainless-steel panelboard isolates the wiring gutter, wiring space, and termination area. These areas would otherwise be exposed if the door of the panelboard was open.
The other version of the stainless-steel panelboard, which is the external handle version offers the ability to operate the circuit breakers through the door. The door is spring-loaded, watertight, and consists of operating handles made of aluminum.
All stainless-steel panelboards by Spike Electric are equipped with a copper bus, isolated neutral and ground bar, and GFI or EPF breakers. The gasketed covers of the stainless-steel panelboards provide IP66 and NEMA 4 / 4X rated protection. The protective gear features include a watertight seal, stainless-steel cover bolts, a detachable piano hinge, and a breather/drain. These protective features make it an ideal choice for many industrial applications that need complete safety.
Stainless Steel Panelboard Benefits
The material does not corrode, or rust because of the external weather conditions. Why? It is not like ordinary mild or untreated steel. The difference between the two materials is the amount of chromium present in the steel. Untreated steel catches rust easily when it is exposed to moisture and air. However, in the case of stainless-steel, the added chromium gets converted to chromium oxide when it comes in contact with air. This ultimately prevents corrosion by blocking oxygen from the steel surface. This means that the corrosion does not reach the internal surface of the steel, which makes the panelboard an efficient piece of equipment.
1. Stainless Steel is Recyclable
Stainless steel is 100% recyclable. The average stainless-steel panelboard is made with 60% recycled stainless steel material. Hence why this is an incredible choice if you want to lessen your environmental footprint. Stainless-steel panelboards are a viable choice for a sustainable environment and a building.
2. Stainless Steel Panelboards Are Easy to Install
Stainless steel panelboards can be easily installed and can be customized to suit specific requirements. Also, stainless-steel panelboards are very lightweight. Installing them during the construction phase is almost seamless.
Standard Features of Stainless-Steel Panelboards by Spike Electric
Eaton Pow-R-Line and PRL2 panel boards
12-24 circuits with main lug or main circuit breaker
One of three-phase systems
100, 225, 400 and 600 amp bus
Round bar and isolated neutral
316 Stainless steel enclosure
10kA interrupting rating
Spike Electric recommends S4XPB & S4XPBH stainless steel panelboards as they are of premium quality and function with high performance.
Stainless Steel Panelboard Uses
Stainless steel panelboards are primarily meant for use in damp areas or corrosive environments. However, they can be used for the following applications as well:
Housing thermal-magnetic circuit breakers

In this situation, the stainless steel protects against thermal time delay overload. Additionally, they provide significant protection from short circuits and circuit disconnects.

Circuit protection and branch power distribution

Industries that operate with heat tracing receptacles, pumps, lighting, valves, motors, etc will experience maximum safety by employing stainless steel panelboards.

Stainless steel panelboards are the ideal solution for industrial applications and projects in damp areas and corrosive environments.
Why Choose a Spike Electric Stainless-Steel Panelboard?
Spike Electric places the customers' preferences at the top of the priority list. Hence, we assure you of the following:
Quick delivery timings
High-quality products
High-quality customer service and assistance in the event of technical problems.
For every order that you place with Spike Electric, you can be assured of the following aspects:
Two-Week Turnarounds (or quicker) on Most Orders
High-Quality Manufacturing
High-Quality Customer Service and Support
A long-term and reliable manufacturing partnership
What's the advantage of partnering with Spike Electric? What's in it for you? Here Working with Spike Electric Controls means:
Reduced Downtime
Less Overtime
Enhanced efficiency in operations
Spike Electric has emerged as a leader in the electrical equipment industry. Hence, if you want a premium quality stainless steel panelboard for yourself, then reach out to us. Our team will be glad to assist you. Get in touch with us today!
Written by: Cole Attaway
Cole Attaway is the founder and CEO of Spike Electric Controls. Spike's mission is to improve the accessibility and delivery of industrial electrical gear for clients nationwide. Spike solutions result in reduced unplanned downtime, less overtime, and greater operational efficiencies.
The highest quality at the quickest speed.
Spike can deliver the same name-brand electrical gear in a fraction of the time.