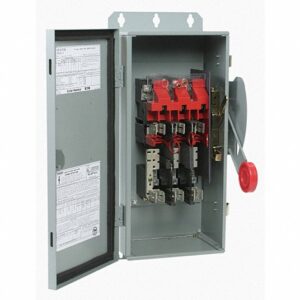 Are you planning to host a simple venue for small events? Or, do you want to establish a large-scale venue for long-term entertainment purposes? How about a performance hall, auditorium, or convention center? Well, whatever may be the construction that you want to take shape, you must seriously consider the power needs the facility is going to have. Remember, for any commercial space, safety should always top the priority list- not just during the implementation and execution of your construction plans, but also after the project has taken shape and has started entertaining the audience.
While drafting the power supply solutions for your facility, a common challenge that you might come across is – should a company switch be employed, or should you go with a simple disconnect switch? Spike Electric wants to give you some insightful information about it. We give utmost importance to the safety of your facility and your satisfaction. Read on to know more about Company and Disconnect switches.
Spike Electric provides custom-made solutions for all your company switches needs for your entertainment venue. Get in touch with us today.
What Are Company Switches And Disconnect Switches
Both these switches are crucial for the safety of commercial spaces. Their purpose is a simple one. Company and Disconnect switches offer safety to a facility by quickly making or breaking electrical connections as per the requirement. The only difference between these two switches lies in the manner in which they make or break electrical connections and in what instances they do so.
A disconnect switch is also referred to as a combination disconnector or a load switch. What is its purpose? A disconnect switch is designed in such a manner that it makes sure the electrical power is completely switched off and made unavailable for a certain circuit or system as per the requirement. A disconnect switch is enabled for a certain piece of equipment or appliance, and during some instances like planned system or equipment maintenance, this switch is utilized.
A company switch also serves a similar purpose. However, it has a more specialized power distribution system. Hence, a company switch provides a few extra advantages over a disconnect switch. What are they? A company switch offers benefits like single-pole cam connections and light indicators that indicate which connected circuits are carrying a load at present. Also, a company switch offers portability which disconnect switches don't as they aren't designed for portable appliances. Additionally, a company switch provides circuit breakers with safety features so that they will be inaccessible when circuits are live. The company switch will automatically disconnect power if the switch enclosure gets opened or tampered with.
Which Switch Is The Best Choice ForA Business or Entertainment Venue?
Though the cost of a company switch is more than a disconnect switch, think about the features it offers. Along with a company switch, you get to experience the advantages of portability, durability, and the ability to monitor multiple power distribution systems and circuits. Hence, a company switch is an ideal choice for several commercial applications. According to the safety regulations, you need to possess one of these switches. Though Disconnect switches are the simpler and less costly ones, you can use them in specific applications under the right circumstances.
If you aren't able to decide which switch to employ for your commercial space, feel free to get in touch with our experts. Professionals at Spike Electric will provide you with the needed assistance and will help you determine the ideal switch for your facility. Utilizing our extensive product guides, and with the assistance of our expert technicians, you'll find the ideal industrial that will best suit your preferences and specifications within no time.
Written by: Cole Attaway
Cole Attaway is the founder and CEO of Spike Electric Controls. Spike's mission is to improve the accessibility and delivery of industrial electrical gear for clients nationwide. Spike solutions result in reduced unplanned downtime, less overtime, and greater operational efficiencies.
The highest quality at the quickest speed.
Spike can deliver the same name-brand electrical gear in a fraction of the time.